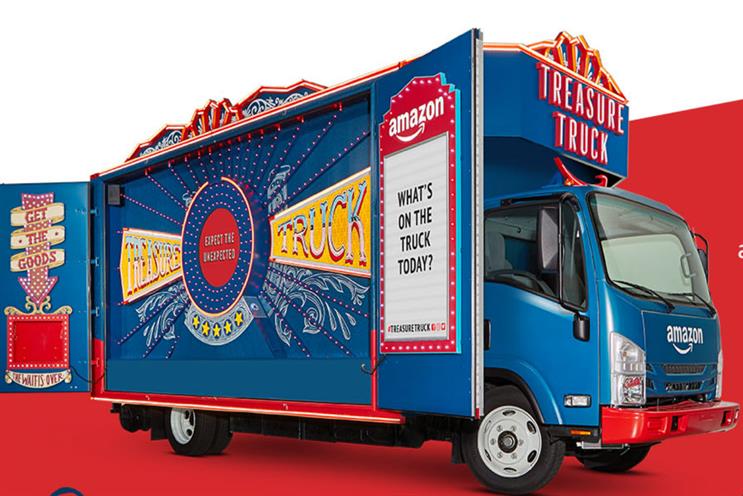 Amazon's Treasure Truck, a unique and fun-filled way to shop for new, trending, local or delicious items, has today announced the launch of pop-up kiosks to provide customers with an even more convenient way to pick-up amazing deals and enjoy a fun-filled shopping experience. The first kiosks will appear at London stations on 5th June. Participating stations include Charing Cross, King's Cross, Paddington, Liverpool Street and London Bridge
The small pop-up kiosks are an extension of Amazon's Treasure Truck, which travels to cities all around the UK several times a month, featuring top-notch offers and immersive events each and every time to surprise and delight customers who are signed up via texting 'truck' to 87377. On the day of the pop-up kiosks or when the truck is ready to drive into town, customers will receive a text alert spilling the beans on the treasure available that day. Customers select the Treasure Truck product in the Amazon app, they choose a convenient time and place for collection, purchase the item through the app and then collect it at the truck or kiosk pickup locations.
For launch, the Amazon Treasure Truck kiosks will offer customers and passers-by the chance to buy a bottle of Boodles Mulberry Gin for only £14.99 and for first time purchasers with Treasure Truck there will be an additional £5 off. As well as providing an even more convenient way to shop, as with each Treasure Truck offer, at each kiosk, there will also be a fun experience to be had for participating customers, including giveaways, prizes and free samplings.
"Kiosks are a natural extension of the exciting shopping experience of Amazon's Treasure Truck. Whether you're on the way to work or heading home for the day, Amazon customers and passersby will have a fun and convenient way to shop for an amazing deal, get their hands on a trending product or take part in a fun event. Kiosks will help turn an ordinary day into something a bit more special," said Suruchi Saxena Bansal, Country Leader, Amazon Treasure Truck.
Customers can sign up for Treasure Truck by texting 'truck' to 87377 to be among the first to find out the offer of the day and the pickup locations available including both the location of the truck and now the new pick-up kiosks. Find out more at www.amazon.co.uk/treasuretruck, follow @treasuretruckUK and look out for #treasuretruckuk on social media.