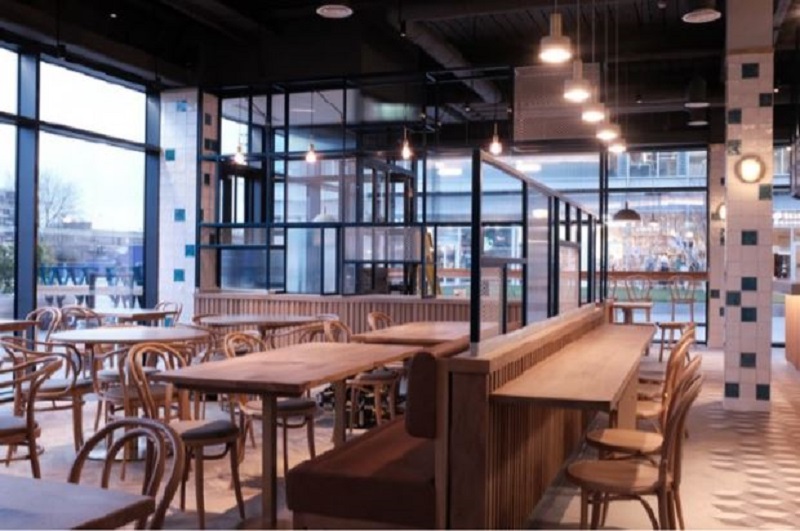 Wellbourne Brasserie has been opened in White City Place by acclaimed chefs Ross Gibbens and Michael Kennedy. The restaurant features unique all-day dining menu that is simple, restrained and affordable, yet it boasts quality ingredients and attention to detail.
The menu includes homemade crumpets served with Wellbourne Basserie's own hot smoked mackerel for breakfast and Veal Holstein served with hens egg, lilliput capers and smoked anchovy as a main course. A specialist Mibrasa charcoal oven imported from Spain will also cook some delicious dishes such as a 50 day salt aged Simmental beef & wild juniper and Ross-on-Wye green asparagus, sunflower seed praline & salted butter.
The Plat du Jour is priced at £10 and it includes dishes such as Bavette, chips & aioli, while the signature vol au vents are available as appetisers, with varieties including English broad beans, ewe's cheese & mint, Salt cod brandade and Duck rillettes.
The 40-seater Brasserie has an alfresco terrace overlooking the Green, allowing guests to dine and enjoy cocktails in the fresh air. It also has a 30-seater lounge bar and the Charles Packe private dining room with a bespoke enomatic machine, named after Wellbourne's fine dining space in Spain.
"We are thrilled to open Wellbourne Brasserie in White City Place. Our modern British brasserie offers an affordable and unique style of all day dining. It is refined and restrained but with a real focus on quality," said Head Chef Ross Gibbens. "We also have a great wine and cocktail list and our south facing Terrace is the perfect spot for alfresco dining and drinking."
Wellbourne Brasserie is the latest opening within the Wellbourne Group. Last year Wellbourne Clifton, an informal neighbourhood restaurant in Bristol, opened its doors followed by Wellbourne Salardu, a seasonal fine dining and après ski restaurant in the Spanish Pyrenees. Each one of the venues has its own distinct offering, but the focus on quality and informed dining in an informal environment is part of all.