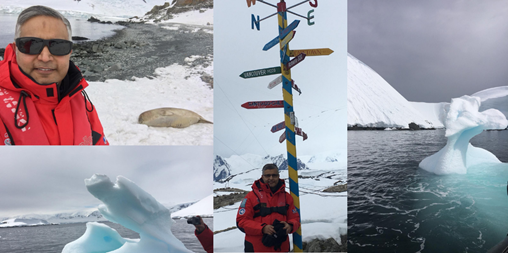 Chef Atul Kochhar will be embarking on his second mission to Antarctica on the 27th of December this winter. He will be cooking for a special group of guests to raise money for Great Ormond Street Hospital Charity. Atul has been a dedicated supporter of Great Ormond Street Hospital for over a decade and has seen first-hand the exceptional work they do.
"We're so grateful to Atul Kochhar for his generosity and support. The money raised will help to make a difference to seriously ill children from across the UK," commented Laura Savory, Head of Community Events at Great Ormond Street Hospital Charity.
Atul undertook the treacherous journey to Antarctica last year and on his return said; 'never again', however his quest and urge to support the hospital has given him the motivation to return with Q Experiences.
In February 2004 his daughter was born but quickly became unwell and admitted to intensive care, due to Meconium on her lungs. After a harrowing number of days, she was transferred to Great Ormond Street Hospital to undergo a lifesaving operation. She proceeded to spend three months at the hospital, under the expert care of the exceptional team, before being allowed home to make a full recovery. Today she is a bright and confident teenager.
"My daughter didn't have the best start to life, but we were incredibly fortunate and grateful that Great Ormond Street Hospital were there for us. I want to do my bit to ensure Great Ormond Street Hospital is there for every child that needs its services. I'm excited and nervous about my second trip to Antarctica but I'm looking forward to cooking for a special group of people, in order to raise as much money as possible," said Chef Atul.
For more information about the event go to https://www.justgiving.com/fundraising/atul-kochhar-antartica
Great Ormond Street Hospital Charity helps to provide world-class care for young patients and their families by raising money to support some of the hospital's most urgent needs. These include pioneering new treatments and research, providing specialist equipment and supporting the essential refurbishment of the hospital to provide state-of-the-art facilities to match the hospital's world-class care.