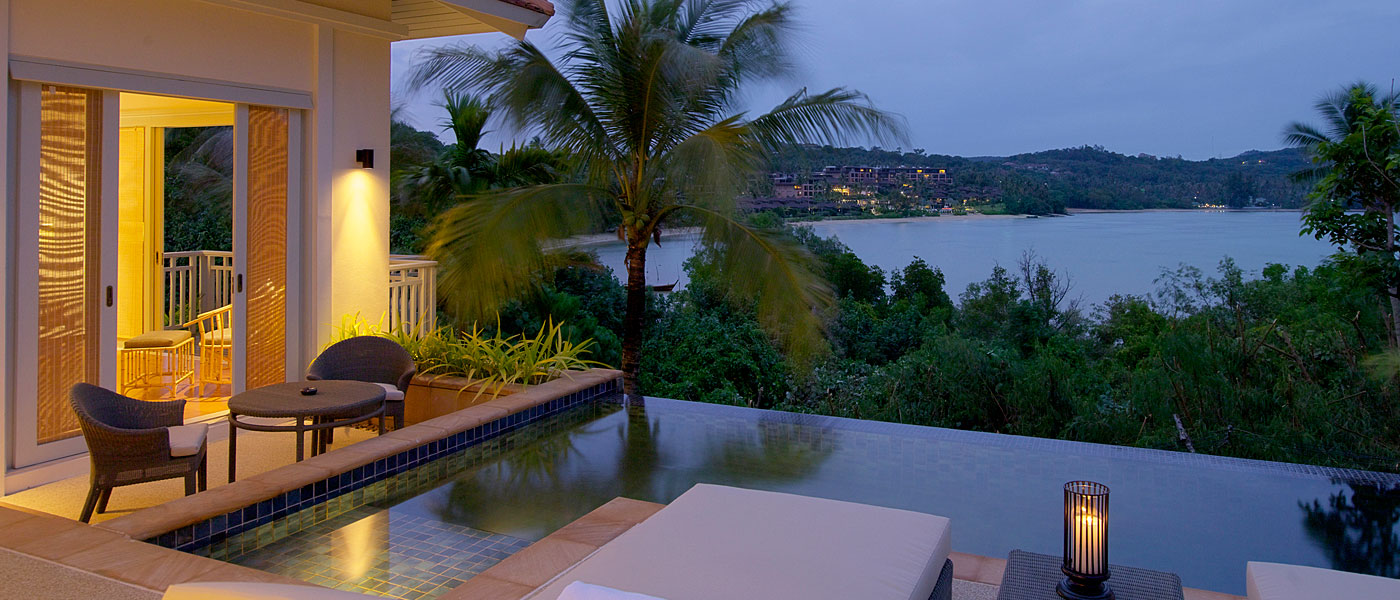 Secluded in a tranquil bay of Cape Panwa, Amatara Wellness Resort features all-inclusive healthy retreat programs as well as leisure holidays for all guests. The Retreats focus on detox, yoga, weight management, couple, fitness, relaxing spa as well as total-tailor made program. All retreats include accommodation, roundtrip airport transfer, 3 healthy meals per day, Wellness Consultation, Physical Analysis, well-selected list of treatments and activities based on chosen program and Amatara's signature treatment – Thai Hammam for an ultimate relaxation. The resort has 105 suites and pool villas, each with its own private balcony and sea view offering space, privacy and tranquillity for all guests. The lush resort also offers the finest gourmet cuisines and one of the region's best ocean-view spa facilities.
This August, Amatara Wellness Resort, Phuket brings aerial yoga outside the studio and into nature with a rejuvenating three-day Bamboo Yoga Retreat; an exceptionally photogenic workout which provides a new challenge for even experienced yogis. Led by certified wellness instructor Aleksandra Milewicz, guests will learn to train bodies and minds whilst suspended from unique bamboo tripods on the pristine shores of the Andaman Sea.
Thailand's leading wellness resort defies gravity with aerial yoga programme from 23-25 August
Tapping into the recent zeitgeist of yoga experimentation, CEO and founder of Bamboo Yoga in Hong Kong, Aleksandra Milewicz, will guide guests at Amatara Wellness Resort on a thrilling Bamboo Yoga Retreat from 23-25 August 2019. A unique concept of aerial yoga practiced on a bamboo tripod, the retreat will offer wellness enthusiasts an empowering programme balanced by daily Yin & Yang asana, meditation practices and pranayama in the open-air, with exquisite accommodation, nourishing healthy menus and the idyllic setting complementing the process.
Symbolising strength and flexibility, the bamboo plant mirrors the practice of yoga, and a beauty and grace of form that people seek from the poses. Suspended above the ocean, the unique structures help improve flexibility and build upper-body and core strength, while allowing guests to practice more challenging poses without added pressure on the shoulders, spine or head. Combining acrobatics, Pilates and yoga, the gravity defying practice is well-known for its multiple health benefits from improving blood circulation and detoxifying the system, to bringing harmony and peace to mind and renewing energy. The positive effects on health and well-being are further enhanced by simply being outdoors and by the ocean, which has been shown to help ease stress, tension, anger and depression, and can increase happiness, satisfaction and energy. Deep-breathing salty sea air which is abundant in negative ions is thought to help the body absorb oxygen, stimulate the metabolism, and raise serotonin levels, whilst a vitamin D boost from moderate exposure to sunshine has a further healing effect.
Away from the serenity of the shores, guests can enjoy a selection of nourishing dishes at Amatara Wellness Resort's The Retreat restaurant; delivering unrefined, wholesome cuisine from a menu inspired by modern healthy eating influences. Between yoga sessions guests are invited to relax and revitalise at Amatara's innovative, integrated 2000sqm spa with an array of individual holistic treatments and specially designed spaces for reflection.
For reservations and further information visit www.amataraphuket.com, email [email protected] or call +66 76 318 888