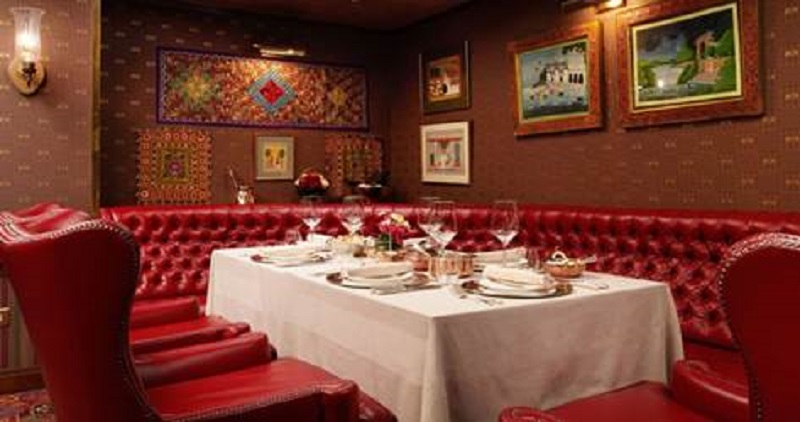 The Curry Room is the new Indian restaurant opened at The Rubens at The Palace hotel, bringing a unique blend of Indian and South African flavours to the heart of Victoria's new restaurant scene. The menu features the finest ingredients and spices and is served in a rich and warm setting, finished with traditional Indian prints and Rajasthani hand embroideries.
The menu selection includes spicy samosas and poppadoms to start with, followed by traditional KwaZulu-Natal curries, such as Prawn & Chicken Curry, with ingredients and spices including tomato cream sauce, rice wine vinegar and fenugreek. Other Indian curries are also available, including Spicy Beef Vindaloo, full of tasty slow cooked beef, white wine vinegar, onions, tomato and Goan spices or Butter Chicken, simmered in saffron butter, chilli and coriander cream. All curries are served with basmati rice and traditional Indian bread, and presented Thali-style on a silver platter.
Desserts such as Indian influenced kulfi ice cream or Baked vanilla cheesecake can be enjoyed by guests. The all-inclusive three course menu is priced at just £35.00 per person. To complement the dining experience, the wine list has been specially crafted and it offers a selection of both old and new world wines, including some from The Ruben's sister vineyard in South Africa, Bouchard Finlayson.
"Our new Curry Room is an exciting addition, not only to the beautifully refurbished hotel but also to the local restaurant scene. Our talented Chef Kumar and our friendly Restaurant Manager Mohan Senchuri look forward to welcoming Londoners and visitors to join us for an authentic taste of India, right in the heart of vibrant Victoria," commented Malcolm Hendry, General Manager of The Rubens at The Palace.
Chef Arun Kumar brings a wealth of experience from across India and the UK and will work alongside The Rubens' Executive Chef Ben Kelliher, as well as Kevin Joseph, Executive Chef at The Rubens' sister property The Oyster Box Hotel in South Africa.
The Curry Room is open for dinner from Wednesday to Monday (closed on Tuesday), from 17.30 until 21.00.