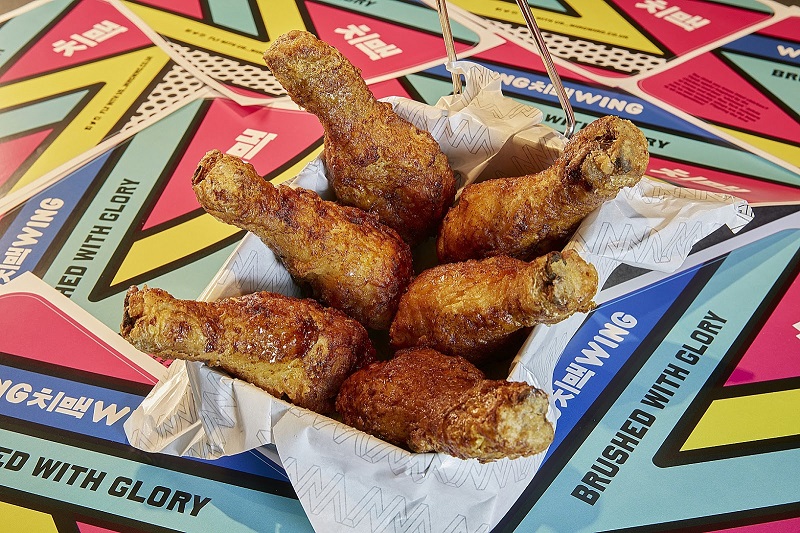 Wing Wing, Chimaek chicken joint, has announced the opening of a second site in Hammersmith on the 13th of March, following the success of the first site on Woburn Place.
The new venue is almost twice the size of the original one and it will feature a dedicated ground floor take away and delivery counter, showcasing an extended menu of Wing Wing's signature Bao Nut and Coffee offering. Going down the large, neon lit stairwell, guests will find a vibrant, modern, 180 cover dining area that features playful, provocative signage and subtle nods to their Asian roots.
There will also be two extensive private dining rooms available, fitted with 60 inch TV screens and the latest karaoke equipment, two cocktail bars, and the world's smallest disco with a maximum capacity of just two. The new location will see the introduction of Wing Wing's corporate delivery offering, serving-up anything from single lunchboxes to party packs and towering 100 wing trays to local offices.
Wing Wing will continue to serve up the freshest chicks, double-fried Korean-style and individually brushed with glory to suit the diner's choice of three lip-smacking glazes; Soy Garlic, Hot or Liquorice. Asian-inspired comfort food favourites such as Katsu Bao, Seaweed Fries and Kimchi Coleslaw will also be heading west.
Chimaek originated in Korea, but was perfected on the streets of New York's Lower East Side, serving-up trays of fresh, crispy-style chicken wings glazed with unique flavour combinations and stacked high alongside ice-cold beer. Wing Wing Hammersmith will feature the innovative 'Bottoms-Up' beer system, which they introduced to the UK with the Woburn Place opening back in May of last year. Offering self-service, ice-cold pints in four to seven seconds, the beer is poured from the bottom up through the base of the glass. Hammersmith guests will be able to use the Bottoms-Up beer dispensers either at the bar or built-in to the private room dining tables.