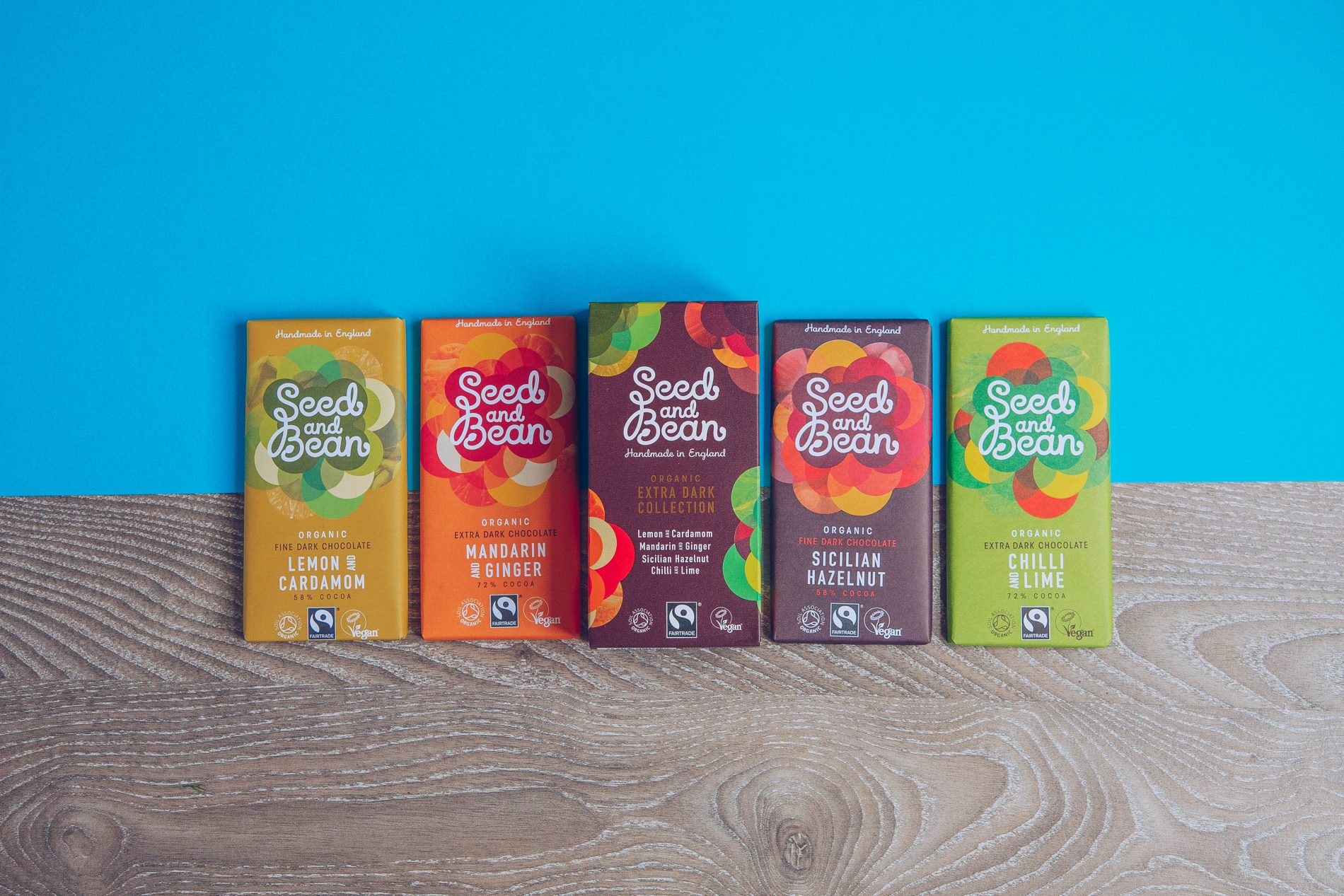 Seed and Bean is a real trailblazer in the eco space and six years ago,  it was the first chocolate bar to start using fully compostable foil. Each bar is organic, uses ethically sourced ingredients and is wrapped in sustainable packaging which is 100% compostable. All 22 flavours, including 12 vegan-friendly options meet Fairtrade Certification and use single origin cocoa beans, sourced from the world's finest cocoa regions in Ecuador, Dominican Republic and Sao Tome.
The 22-strong range includes dark chocolate, milk chocolate, while chocolate and two high cocoa bars. The dark range (which is also vegan) includes Chili and Lime, Aromatic Fennel, Coconut and Raspberry, Coffee Espresso, Cornish Sea Salt, Just Ginger, Lavender, Lemon & Cardamom, Mandarin and Ginger, Mint, Sicilian Hazelnut and Sweet Orange and Thyme. Meanwhile the milk chocolate range includes Caffe Mocha, Sicilian Hazelnut & Almond, Cornish Sea Salt & Lime and Tangerine. There are two white chocolates – Raspberry & Vanilla and also Lemon & Poppy Seeds – and then two high cocoa including an 80% and a 100%.
The Seed and Bean collection is available from Wholefoods, Planet Organic, Abel and Cole, WH Smith, John Lewis Food hall, Soho farmhouse, amazon, Mr Simms and independent farm shops and delis across the UK. Prices start from £2.69 for 85g bars and from £1.20 for the mini bars.
The Seed and Bean collection combines adventurous flavours and English botanicals with 100% green credentials. This has lead to them being recognised as a top scoring environmentally friendly brand for the sixth year in a row – gaining them 100% ethical accreditation in the Ethical Company Index. Dedicated to Fairtrade, Seed and Bean is made in England with all natural, Soil Association Organic ingredients; which is a higher and more stringent regulation than normal organic standards. They are the only chocolate brand in the UK to have all these credentials.
Not only is Seed and Bean's chocolate ethical, their packaging is sustainable too. The environmentally friendly brand uses a fully compostable inner foil made from a flexible cellulose film manufactured from eucalyptus wood pulp, that keeps the chocolate fresh and then naturally biodegrades in your compost heap. The outer paper packaging is recyclable, to support their green mindset. Their unique and innovative products offer consumers the choice to make a more sustainable purchase.