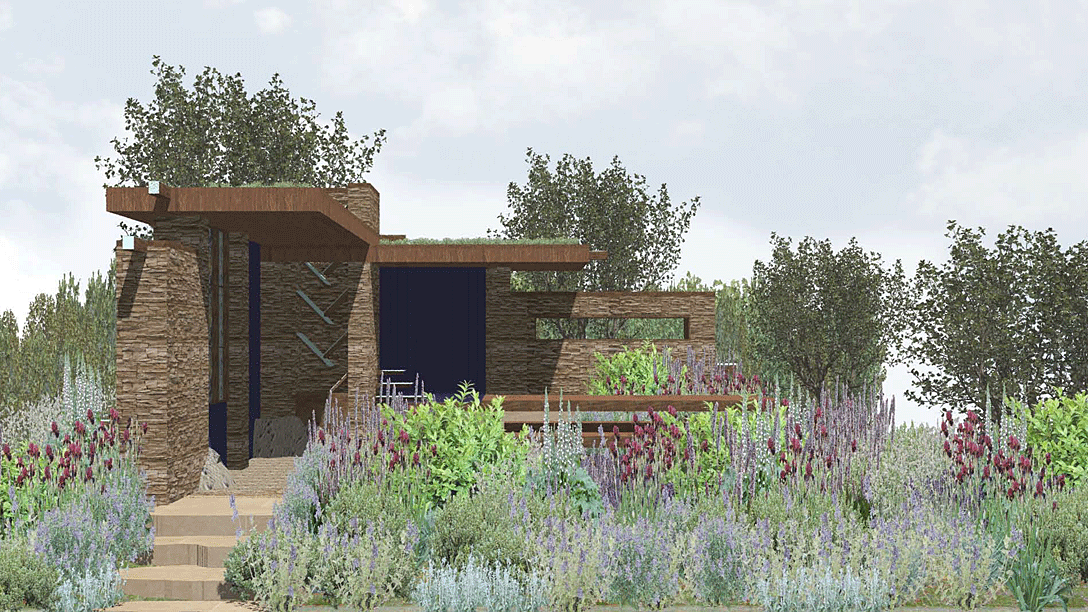 Warner Edwards – Britain's leading super-premium, farm-born gin – is bringing a touch of its countryside home to the RHS Chelsea Flower Show 2019, partnering with esteemed garden designer, Helen Elks-Smith to create a Show Garden on Main Avenue for the first time in the brand's history.
The award-winning garden designer is using inspiration from the natural springs at Falls Farm in Northamrptonshire – the home of the Warner Edwards Gin Distillery. Said to be built 'on rock and water', the naturally occurring springs and aquifers of Falls Farm inspired a playful and imaginative water feature, that appears and disappears throughout the garden.
Regionally-sourced natural stone and materials will anchor the design which contains a complex cantilevered roof and supporting structure. Oxford-based artist, Wendy Newhofer, is creating bespoke, hand crafted glass panels which will feature a blue tint created from copper reacting with the glass – inspired by the distillation process that takes place at the farm.
With a nod to architect Frank Lloyd Wright's masterpiece 'Fallingwater' and an emphasis on the horizontal plane, an enclosure has been designed for relaxed entertaining with views to the wider landscape beyond and underpinned by subtle, textural planting.
The garden will feature planting such as Juniperus Communis – an evergreen conifer which has berries that are used to flavour gin; Crataegus Persimilis 'Prunifolia' – a broad-leaved cockspur thorn; mixed native hedging – an important part of English countryside and Rosmarinus officinalis – which will be used on site to garnish gin and tonics.
The garden will provide a relaxed space for socialising and engaging with family and friends, and central to the design is an impressive sheltered courtyard referencing the tranquil setting of Falls Farm. Situated on Main Avenue, the garden's central column will include elements of copper and water inspired by the internal process that occurs in 'Curiosity' – the still that creates the six famed Warner Edwards gin variants.
Founded by Tom Warner and Tina Warner-Keogh in 2012 with the aim of 'saving the world from mediocre gin', Warner Edwards gins are hand crafted on the family-owned farm. Drawing water from their spring, growing seasonal botanicals, and collecting fresh honey from their own farm's beehives – Warner Edwards is a truly farm-born 'graft' gin.
To celebrate their third year of exhibiting at RHS Chelsea Flower Show, Warner Edwards will be serving refreshing gin-based cocktails and long drinks at their Gin Barn Bar, a wonderful re-creation of their farm, distillery and botanical gardens. They will also be busily distilling an exclusive gin live in the Jardin Blanc hospitality suite.