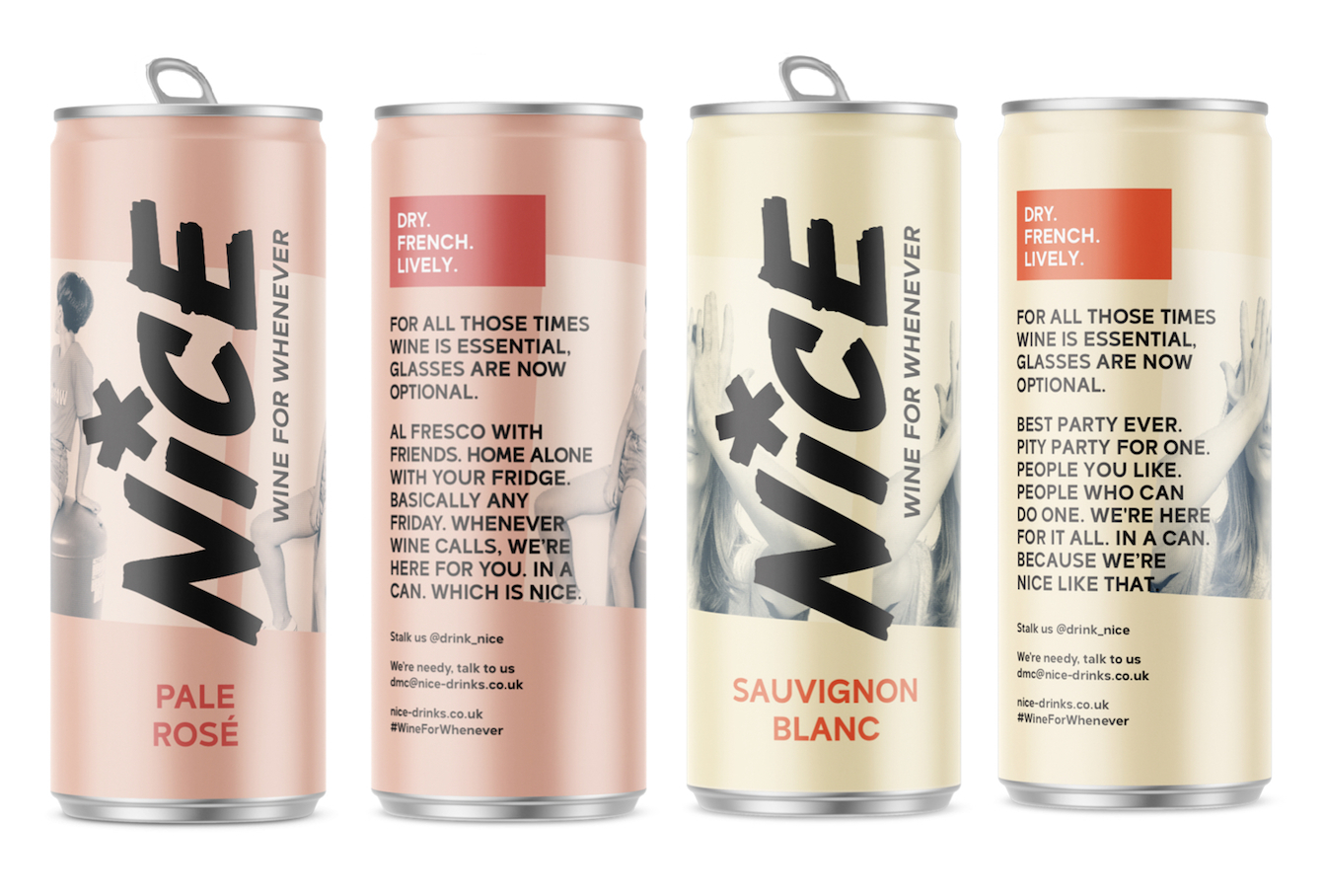 Newly formed startup Nice are out to disrupt the wine industry with the launch of their Pale Rosé and Sauvignon Blanc in a can (RRP £3), rolling out to 600 Sainsbury's across the UK from February 2019. Serving up high quality, still wine, Nice is wine that delivers on both taste and brand, with a can people are proud to be seen with.
The 250ml slimline cans are 100% recyclable and are perfect to drink on the train, move, beach, picnic or at a festival. Helping wine-drinkers have a Nice time whatever the occasion, their maxim is "we're here for the wins, the woes, and the why the hell nots. It's #WineForWhenever"
After much research and deliberation and with the input of their partner, six times wine importer of the year, ABS, Nice source their Pale Rosé from just outside Montpellier and their Sauvignon Blanc from Cotes de Gascogne, France. Both are dry, crisp, vegan, very swiggable, and sourced from family-run vineyards.
Being canned means that Nice chills at lightning speed, is endlessly recyclable, it's light enough to take on any (all?) outings and if you're just after one glass, there's no need to pull the cork on an entire bottle. Glasses are now optional.
Nice is led by two South London based entrepreneurs with a background leading some of the most successful and innovative food startups in Britain, Lucy Wright (ex Co-Founder of Cuckoo bircher muesli and Ananas Consulting) and Jeremy May (ex Propercorn and Vita Coco). This depth of experience gave the pair the confidence and know-how to achieve £300,000 of investment from angel investors prior to launch. Key players in this investment are Cassandra Stavrou and Ryan Kohn of Propercorn.
"Nice is quality wine in a can that has mass market appeal and is 100% recyclable, which made it a no-brainer to Sainsbury's. We have seen fantastic growth in single formats and convenience, and this category has performed phenomenally in the US. We love the brand; the cans will really pop on-shelf. We were also impressed by the two very experienced and ambitious Co-Founders driving the business forward. We're looking forward to seeing the reaction of our shoppers as we roll Nice out to 600 stores across the country. We think the convenience element will be especially promising for the picnicking and festival season," commented Tom Elliot from Sainsbury's about the launch.
Set to be at the forefront of the next big drinking trend of 2019 and beyond, find Nice in Sainsbury's stores across the UK from February 2019, alongside listings in key independents and at the best UK festivals as summer 2019 unfurls.