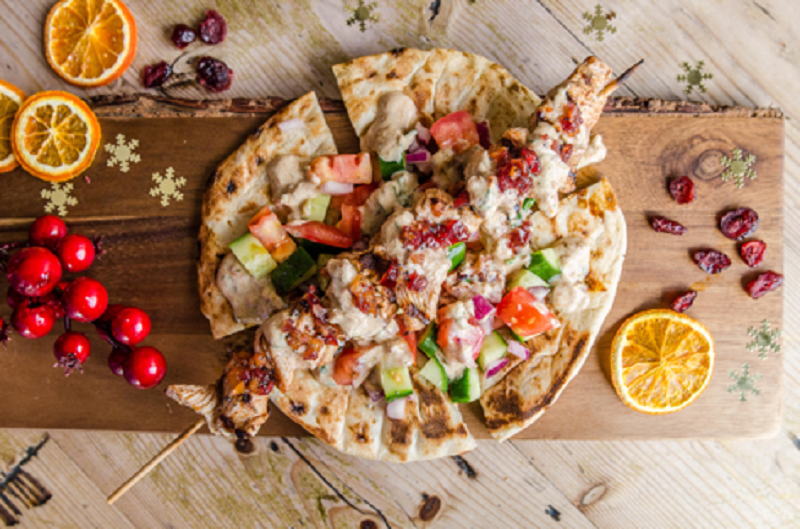 The Real Greek will be offering a taste of the Mediterranean to the UK as the temperature drops. The restaurant will be offering a festive twist on a Greek classic. The Turkey Souvlaki has been available at The Real Greek from the 1st December, and the Christmas Turkey Souvlaki will include a range of special features such as succulent turkey skewers served on a bed of crunchy cucumber, tomato and onion salad. The sandwich is topped off with festive sundried tomato and orange dressing and a cranberry red wine reduction.
The Souvlaki is served on a traditional open flatbread and can be wrapped up to take away or left open to enjoy at the restaurant. As a part of this festive announcement, The Real Greek have also announced that they will be launching a delicious seasonal Christmas Menu that will include a Honey Glazed Pork served with crushed new potatoes, ladolemono leeks and chantenay carrots. Other dishes on the menu include Turkey Breast on a bed of cranberry and sultana saffron rice, also served with the sundried tomato and orange dressing and cranberry red wine reduction.
For those wanting to make to most of the holiday season, The Real Greek will also be offering an alternative to the traditional Christmas pudding, offering instead a smooth Caramel and Pecan Cheesecake, a Chocolate Mousse Cake or sticky Baklava, to be enjoyed with a choice from a selection of luxurious Ice Creams and Sorbets. The Real Greek was first established in 1999 and has developed steadily over the years in order to offer modern Greek food from fifteen different outlets throughout London and the South East.
The festive offerings at this restaurant chain are available throughout December, with the Christmas Menu available until the 7th January in all fifteen restaurants in the UK.