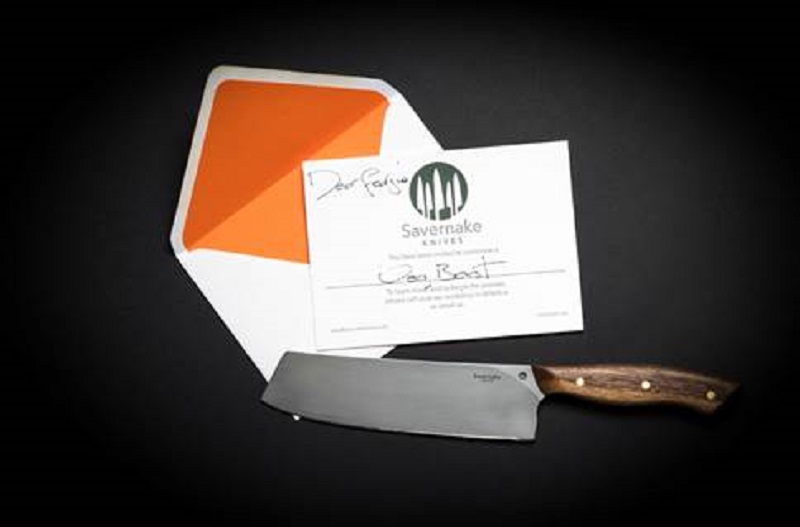 Savernake Knives works to create bespoke high quality and handcrafted knives. Based in an old carving barn that is located on the edge of Savernake Forest, which is near to Marlborough in Wiltshire, the company work to use the best of modern technology combined with a range of age-old techniques in order to handcraft the highest quality knives possible.
For anyone you know is a budding chef, or a homebound foodie, the knife manufacturer is offering the perfect gift idea. Savernake Knives is offering a gift certificate that will offer a knife that can be made to order in the course of a couple of weeks. This is the perfect opportunity to offer someone who loves to cook the perfect knife for them.
The offering of a gift certificate will allow the recipient to submit their own specifications, giving the choice of knife and delivering a Christmas gift that they are bound to love, meaning that there is no need for a gift receipt. Savernake Knives offer a range of products and options to suit a range of budgets and allows their customers to create anything from scratch, a truly bespoke knife. Customers are also able to take one of the carefully curated designs that are already available from the company which can then be altered to create a made-to-order kitchen knife that has been customised to their own specifications. There is also the additional treat of being able to add an even more personal touch with an engraving of a name, date, logo or initials which will be placed on to the blade itself.
Savernake Knives has managed to create the perfect Christmas gift for foodies, enthusiastic cooks, catering professionals, mums, dads, boyfriends or girlfriends, essentially for anyone who loves to cook. More importantly this gift is one that is expected to last a lifetime, a high quality Christmas investment.