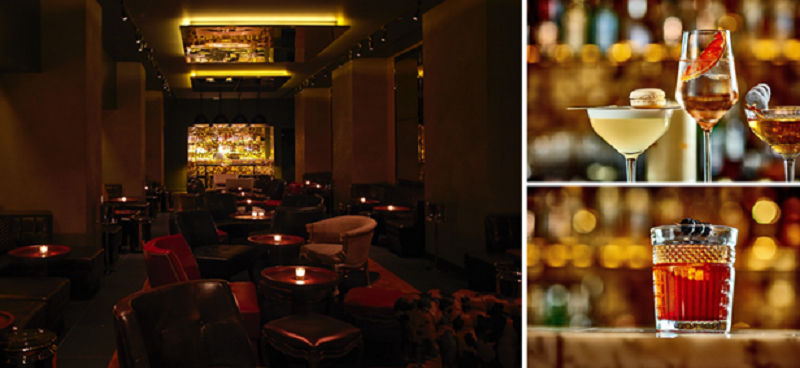 Blind Spot at St Martins Lane hotel has launched this February a new cocktail menu inspired by locations from all over the world. 'Spin the Globe' offers a collection of 24 distinct serves that reflect the world's different flavours, from New York City and Sydney to Mumbai, Kyoto, and Venice.
The creative cocktails have been designed by St Martins Lane's General Bar Manager, Wilfried Rique, who inspired himself from the flavours, histories, and scents of iconic global destinations. For example, the serve inspired from Kyoto, Japan combines Nikka whisky from the barrel, rose water, yuzu juice, almond syrup, blackcurrant liqueur, and wasabi, while the one from Chichen Itza, Mexico, is a mix of Quiquiriqui mezcal, lime, tabasco, avocado, Worcestershire sauce, salt, peppers, and white grape juice.
The menu also features more local flavours, such as Dublin, Ireland that is a punchy combination of Jameson whiskey, Guinness reduction, apple compote, orange juice, salty solution, and Drambuie liqueur and also Taunton, England which combines Somerset brandy, pear juice, apple juice, cider, pimento liqueur and Abbott's bitters.
Blind Spot has also paired the cocktails with nibbles from the same region, such as Empanadas de carne, Black cod dumplings with chilli soy dip, Lime jerk chicken wings, as well as sweet treats such as Paris New Orleans choux pastry with praline cream and cherry compote.
Blind Spot is hidden in the heart of Covent Garden, behind the façade of a boutique tea counter and a secret golden hand-shaped handle. The 'Spin the Globe' menu was made available starting with the 1st of February, offering guests a taste of a celebration of global culture. With this launch, the bar has reconfirmed its position as a frontrunner in London's cocktail bar scene.