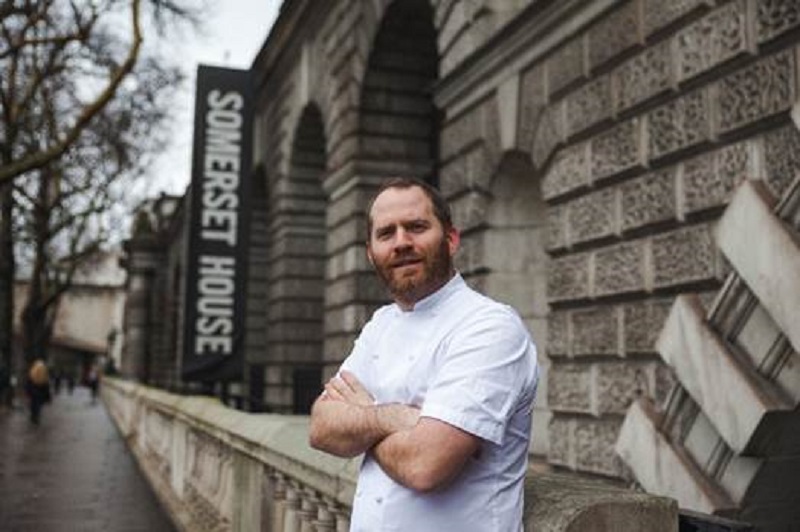 This spring, the celebrated Welsh chef Bryn Williams, will open his first London restaurant in a decade. Located in the renowned arts and cultural centre, Somerset House, the restaurant will offer modern British dining, serving seasonal dishes where fruits and vegetables will be at the centre of the plate.
The creative spirit of the community will be reflected in the food, service, and design. The menu's focus will be on sustainability, provenance, and seasonality. The small plates include dishes such as Rainbow carrots, hand-dived scallop, sauteme, and Pickled mooli, black garlic, raw apple, sage, Cumbrian beef. Some of the seasonal mains are Roast young broccoli, olive tapenade, sage beignet, scorched Cornish mackerel, and Char-grilled leeks, Burke Brown egg, morel mushroom. Options 'from the grill' and salads will also be available.
"I'm a firm believer that a piece of fruit or veg should be treated with the same amount of care and respect as a cut of meat or fillet of fish – if not more. I'm thrilled to be opening a new restaurant that's not only in a stunning location, but where fresh, locally sourced produce is the focus and fruit and veg take centre stage," commented Bryn Williams.
The interior design will be overseen by Rosendale Design, which will bring together the Georgian architecture and the building's naval history with Williams' Welsh roots. There will be a colour theme of texture blue with nautical details such as wall lights made of Fresnel lenses from lighthouses and antique naval map drawers, mixed with Welsh-printed upholstery and brown leather banquettes.
In addition, the new venue will also feature a draught beer bar, the only one on the Somerset House premises. Both the bar and the restaurant will be open throughout the day for the community and the other visitors.