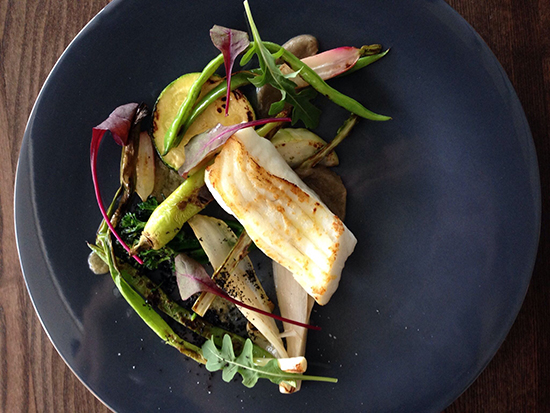 Launching the, 8th of October 2015, the hottest new addition to London's Italian restaurant scene, Bella Cosa, brings the soul-warming food of Italy to the South Quay of Canary Wharf. Perched on the Quayside, the glass-fronted restaurant boasts spectacular cityscape views of Canary Wharf from across the rippling water.
A versatile restaurant with a strong Italian character, Bella Cosa has one of the most exciting new talents in Italian cuisine at the kitchen's helm. Executive Chef Kentaro Torii, renowned by critics in the US and Italy for his Japanese approach to Italian food, is serving his signature contemporary Italian dishes with Japanese flair and presentation for the first time in the UK. His culinary style combines generations of Italian traditions with modern techniques, as well as Japanese rigor and precision. Kentaro is working alongside a purely Italian kitchen brigade, serving dishes such as: Seasonal Risottos; Grilled Octopus, Smoked Potato Puree, Trapani Pesto, Olives, Celery Salad; 5 Cheese Ravioli, Saffron Sauce, Beetroot Puree, Suckling Pig Cheek, Autumn Truffle; and Black Cod in Prosciutto, Baby Cuttlefish in Black Ink, Polenta.
The restaurant specialises in dishes based on fresh seasonal produce of outstanding quality, with significant PDO (Protected Denomination of Origin) ingredients imported from Italy. The dishes, no matter how complex the preparation may be, are presented in a neat, unfussy, yet original and modern way. The overall aim is to surprise the customer with both simple beauty and the amazing taste of the dish.
On the ground floor, the seating is spread around a central bar and Chef's Isle constructed of glass, marble and stainless steel, with 'front row' seats to watch skilled chefs at work preparing fish, seafood, antipasti, Italian Salumi meats and cheeses. An additional open-plan kitchen is visible towards the rear of the restaurant, complete with a stone oven producing gourmet pizzas.
The upper floor provides casual fine-dining from the à la carte menu. Stylish oxblood red chairs are gathered around white linen covered dining tables, and the contemporary theme is continued in the chic decor using luxurious materials such as marble flooring and statement coloured glass lights. To the far right of the room, an Artisan Beer Corner provides a warm convivial area for guests to enjoy a wide selection of Italian craft beers. Communal scrubbed wooden tables give a rustic and relaxed feel. An adjoining Wine Room displays the restaurant's carefully selected wine collection (90% Italian of course!) for those who prefer the grape to the grain. This space is also perfect for private dining.
Designed by Italian interior designer Francesco Pizza, the chic interior is spread over two floors including a glass-fronted mezzanine area. On entering the restaurant, guests are greeted with a spectacular 'living wall' of lush green plants.
Bella Cosa is open Monday to Saturday for lunch and dinner, providing a versatile space for business lunches and dinners, aperitif gatherings, or dining with friends. The restaurant is located on the South Quay of Canary Wharf, a couple of minutes walk from South Quay DLR Station.