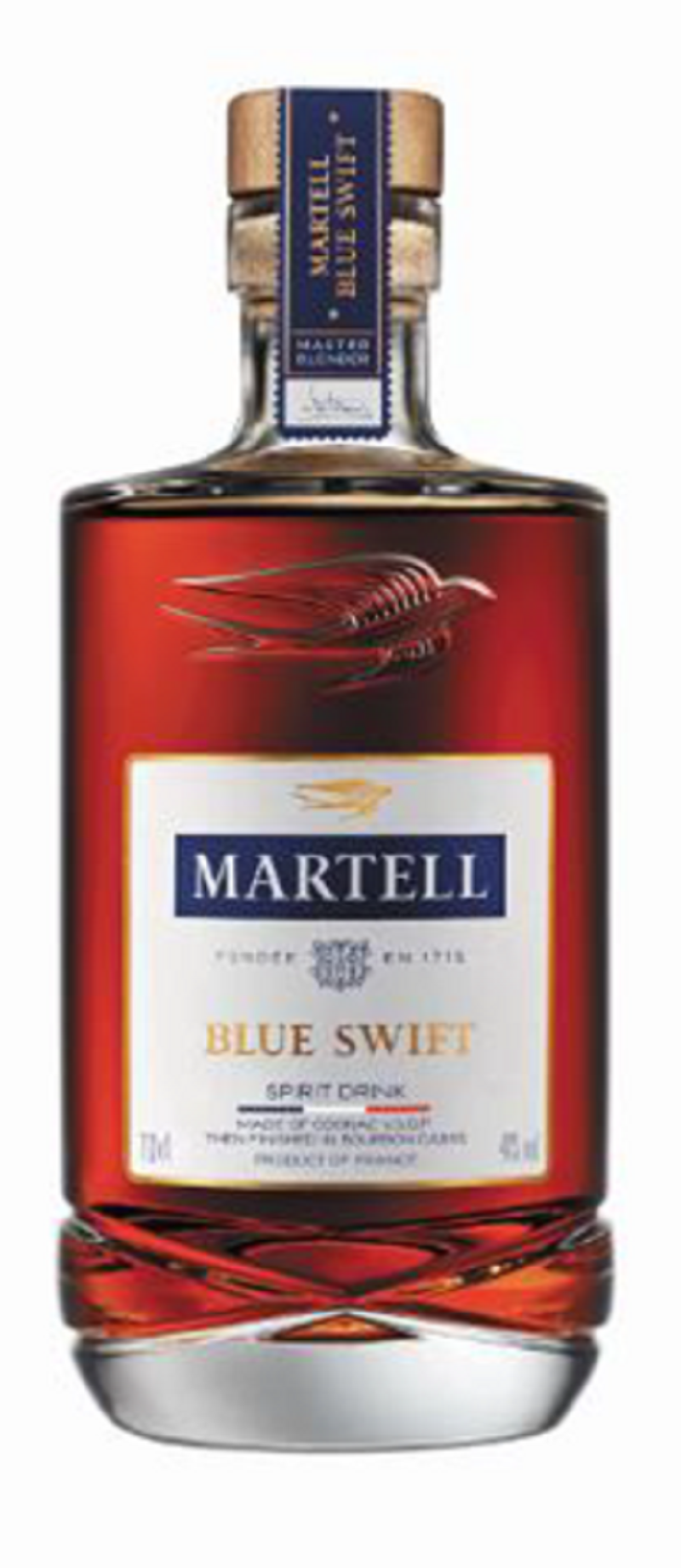 The House of Martell is launching this month Martell Blue Swift, a unique spirit made of Cognac VSOP matured in French oak casks and finished in Kentucky bourbon casks. It will be the first ever spirit of its kind to enter the market.
This latest release pushes the boundaries of cognac even further, reinventing it with a unique spirit that celebrates the House of Martell's historic ties with the United States through the coming together of cognac and bourbon.
Martell's signature double distillation of exclusively clear wines produces eaux-de-vie of exceptional purity, allowing them to better absorb rich aromatic tones from the Kentucky Bourbon oak casks. Martell's characteristic notes of candied fruit and plum are thus enriched, in Martell Blue Swift, with the subtle sweetness of vanilla and toasted oak. The result is a smooth interpretation of the Martell style to enjoy neat, on the rocks, or in classic cocktails as an alternative to the "Bourbon-whisky moment".
When served on the rocks, the ice softens some of the initial oaky fire, while permeating the natural sweetness just like Bourbon. This further allows the expression of the characteristic fruity notes of cognac and the ample, smooth and long toasted finish from Kentucky Bourbon casks.
Martell Blue Swift also breaks the design codes by uniting Old World and New through the sleek cylinder of its bottle recalling the shape of bourbon casks and the elaborate "cut-glass" detail on its base evoking classic crystal decanters. In addition, the new Martell will be available as a night version with a blue swift that glows in the dark to mix energy with elegance.
As the oldest of the big four Cognac houses, Martell will present its new Blue Swift spirit at this year's The Cognac Show. Visitors to the Martell room can enjoy a selection of Martell cognac cocktails, discover some of the brand's rare vintages, attend a masterclass on the "Whisky lover's guide to Cognac" and learn about new innovations and trends from The House of Martell.