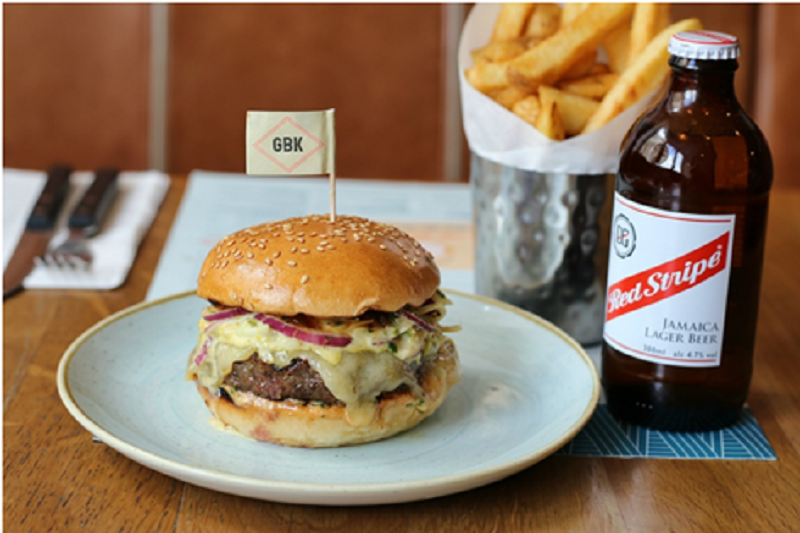 Gourmet Burger Kitchen has added a spicy new item to their menu in order to celebrate National Burger Day. Mr. Lava Lava has been added to the menu in order to celebrate the national day on the 24th August. The Burger will be available to try at the Gourmet Burger Kitchen from the 23rd of August.
The new menu item has been inspired by spicy Caribbean cuisine, with a 6oz jerk rubbed beef patty, served with Applewood cheese, jalapeno relish, mango slaw and chipotle mayo all layered in a sesame bun. For those wanting to feel the burn with this burger, it is recommended that you cool down after with a mango milkshake, or the Jamaican Lager Red Stripe. The burger is also available as part of a deal with the drink for only £14.95.
Tim Molema is the Head of Food at the Gourmet Burger Company, and has said that the Mr. Lava Lava is the perfect way to celebrate the biggest day in the burger calendar. The burger is the new special on the menu and was also the winner of their in-house 2016 chef competition. The National Burger Day burger on offer at the restaurant delivers an amazing carnival of flavour to celebrate Caribbean flavour on the 24th August.  
The Mr. Lava Lava Burger will be available at Gourmet Burger Company sites across the Uk until the 8th of October. The burger will be available for £9.95. The restaurant brand started in 2001, kickstarting the premium burger trend and delivering a selection of innovative crafted burgers for their diners. The first restaurant was founded in Battersea, South London. Since then the company has used their focus on creating fresh quality burgers to develop and expand across the company. There are now 86 Gourmet Burger Company locations across the country, stretching from Brighton to Edinburgh.