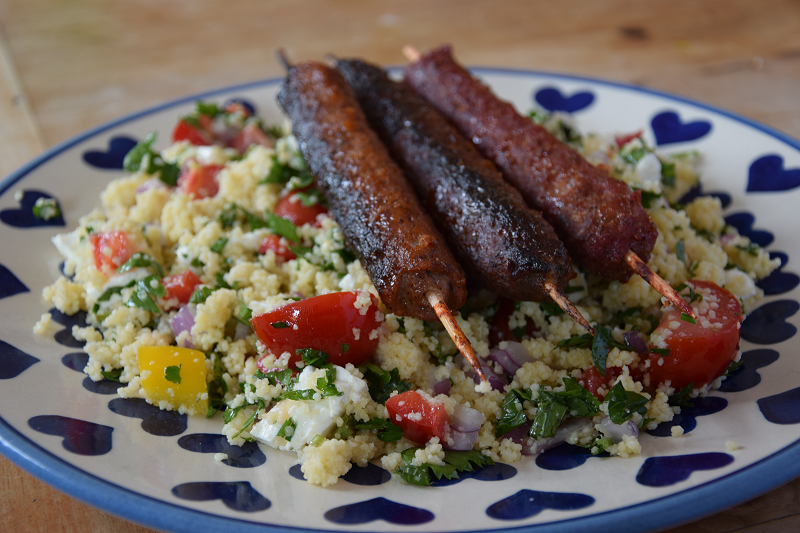 Before the British Summer "officially" ends why not try a new range of barbeque meats. British Summers are thoroughly unpredictable, which is all the more reason to make the most of every ray of sunshine. Hugh Phillips Gower Butcher, the online butchers are promoting their amazing range of barbecue meats before they are replaced for the winter.
The butchers have on offer a wide range of barbeque meats including sausages and seasoned chicken and kebabs. Hugh Phillips Gower Butcher works with fully traceable Welsh meat, to guarantee low food miles. Catherine Butler, the owner of the Hugh Phillips Gower Butcher, has published a weather proof recipe of a zingy couscous salad to be served with her popular minted lamb kebabs.
Hugh Phillips Gower Butcher prides themselves on delivering the best quality meat selection via their online shop and their stall which is set up in Swansea Market. The company has created several different varieties of kebab that are perfect for the barbecue, and all of which would be well suited to the couscous recipe that has been published. The recipe is ideal for the upcoming bank holiday and can be made for gatherings that have had to seek shelter indoors if the unpredictable British weather strikes.
For Catherine's recipe couscous is placed into a large bowl, with 700ml of vegetable stock added. This is covered while the couscous soaks up the stock, and during this time it is time to put the kebabs under the grill to cook for about 15-20 mins until done. After, feta, red onion, yellow pepper, green pepper, cucumber and parsley is chopped and added to the couscous. Next, mix garlic, lemon juice, olive oil, salt and pepper together and stir into the couscous. Serve three kebabs with a helping of the freshly made couscous salad and enjoy.