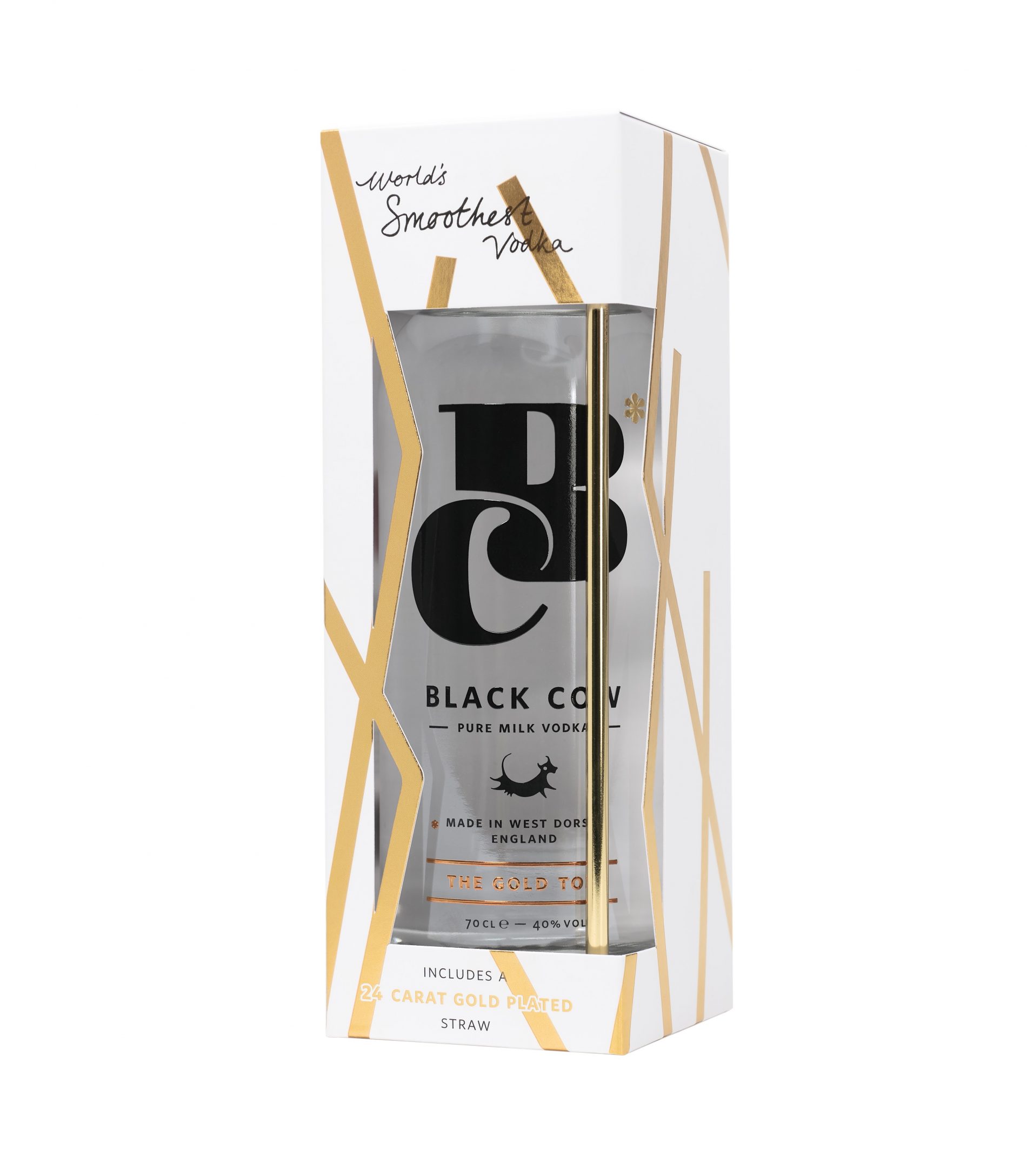 Black Cow, the world's smoothest vodka, is excited to announce the launch of a limited edition gold straw gift pack for Christmas 2018. The gift pack is available from Harvey Nichols and Amazon, with an RRP from £31.50. The gift pack features a 70cl bottle of Black Cow and a reusable 24 carat gold plated straw.
Whey has always been the waste dilemma within the dairy industry with excess volumes produced in the cheese making process. Black Cow takes this undervalued by-product and transforms it into a truly superior crystal clear vodka.
Black Cow is concerned about the world's waste crisis, as the UK discards a staggering 8.5 billion plastic straws a year – that's an average of approximately 130 straws per person per year. A plastic straw, which was manufactured from petroleum, shipped around the world, placed in your drink and then used for 10 minutes, will now exist for at least 100 years.
Black Cow is offering an alternative to the plastic straw, by including a 24 carat gold plated stainless steel straw in the gift pack.
"Since Black Cow's inception we have consciously tried to create a sustainable, green working culture. Sustainability is always a major factor in design decisions. We use reusable or biodegradable consumables where we can such as straws, vessels, napkins etc. We have photovoltaic cells on our barn roofs at our distillery home in Childhay which feed our electricity use and we are always looking to improve our carbon footprint being economical with resources," said Black Cow Founder, Paul Archard.
Black Cow, the world's smoothest vodka, is made purely from the milk of grass-grazed cows. It is an award winning, super premium, crystal clear vodka with a smooth and creamy character. Black Cow was founded in 2012 by dairy farmer Jason Barber and Creative, Paul Archard. Crafted at their distillery in the heart of West Dorset, Black Cow is now available in 22 countries around the world.