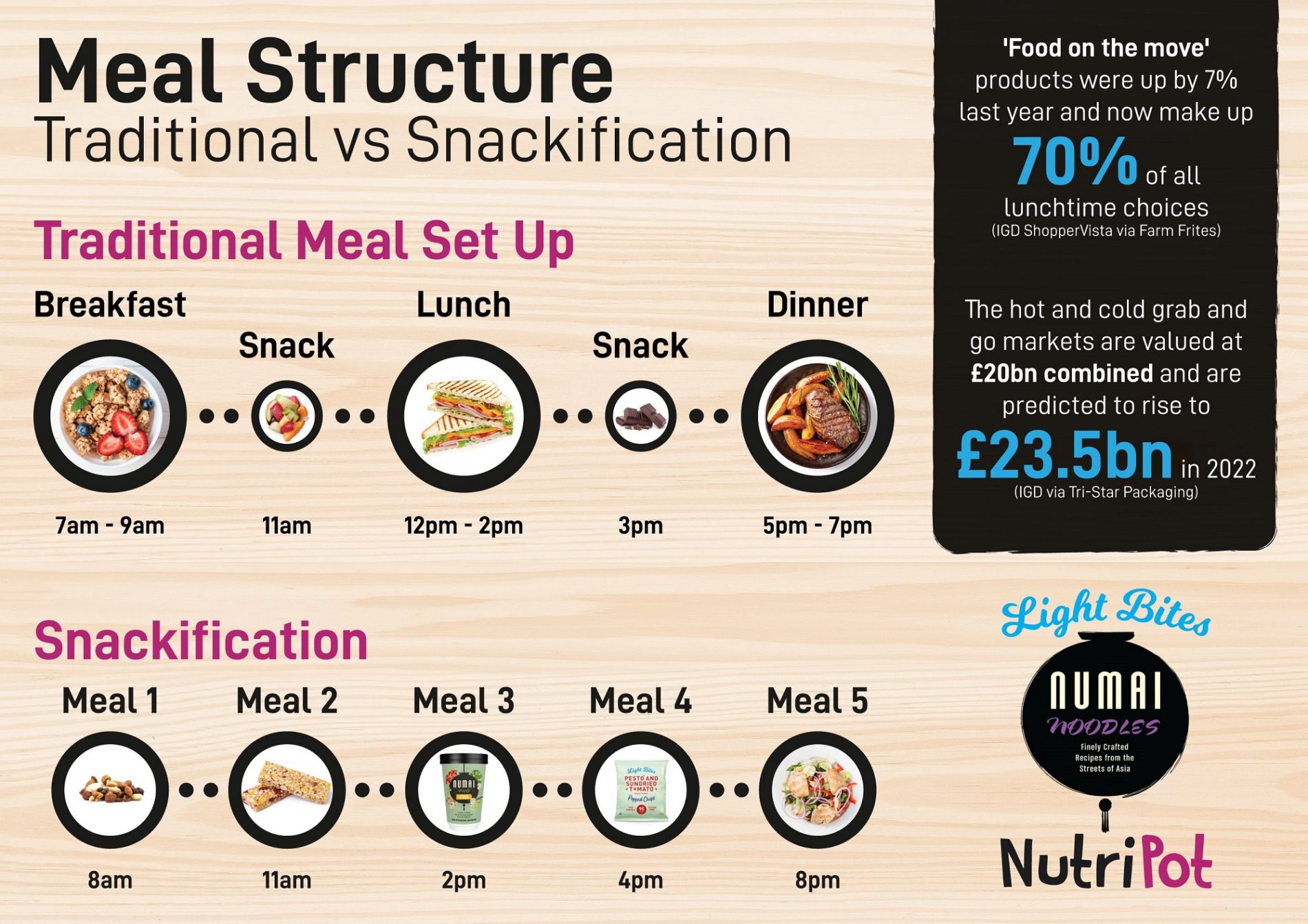 Like most food trends, snackification is not a new movement, nor are other popular diets such as plant-based diets, intermittent fasting, flexitarian and more. Consumers and cultures have been following these diets for centuries, but modern culture has given them the names and the awareness that we see today.
One of the most popular movements has been snackification, regardless of whether you call it "grazing", eating "little and often" or simply just "snacking", people have been adopting this lifestyle in popular culture because it fits in with modern, busy lifestyles.
"Snackification has predominantly become more popular due to a shift of lifestyle, with people spending less time in their homes for the meals of the day. The modern consumer spends their mornings at the gym, days in the office and evenings socialising so it's very difficult to sit down and enjoy the three meals per day," said Robert Rona, director of new markets, products and services at The Triangle Nutrition LTD.
"The reliance on convenience food was the first demand, but since the interest in health and nutrition has increased, convenient food options need to be providing an additional benefit. This could be providing a source of an individual food group, such as protein, or the recommended daily allowance of vitamins and minerals," she added.
The idea of snackification is fairly simple, but it can be adapted to suit any lifestyle. Those who are constantly on the move in the morning, who skip lunch breaks for work or meetings, and dinner falls in between gym sessions or social events.
Consumers are choosing 'snacks' over sit down meals in the mornings and afternoons. These aren't just consumed at the normal hours, as they're often smaller versions of regular meals. "Consumers might eat first thing in the morning and then again at 10am, or eating something en route to a meeting at 11:30am and again at 3pm when it's finished. The flexibility and convenience of the health-conscious snackification movement means consumers can eat what they want when they want – without worrying about calorie intake or nutritional levels," said Robert.
It's a food movement that retailers should be more aware of and embrace. The difficulty for brands and retailers, which is the same for all food trends, is that the popularity and demand can fluctuate. Snacking has always been a part of consumer lifestyle, it's quick and convenient, but lifestyles are constantly changing.
However, there are a couple of points that brands and retailers need to be aware of when stocking products that fit in with this lifestyle. "There are three main points that need to be considered, firstly, ease of use. RTD shakes and bars are great, but for those that what substance as well this needs to be easy to make. Hot water or a microwave are convenient options that are readily available in most establishments. Anything that requires construction or time to make removes the convenience options of the meals.
"Cost is important, whilst consumers almost expect to pay more for a healthy product, this should not be taken advantage of, competitor analysis and general market research should be able to provide a benchmark. If you want to go about this, and pitch a luxury or more premium product, the price needs to be justified by outlining what a consumer gets in return for the money, with USPs clearly outlined on packaging.
"Finally, and most important, is taste. If you're charging more, it's not enough that a product looks good. It's needs to contain style and substance. The modern palate has evolved, and the stigma of health products not being the most flavourful has been changed. A focus on natural ingredients to provide flavourings has resulted in amazing tasting, and healthy, products.
Ultimately, consumers want a convenient product, which doesn't require faff to make, that provides a health benefit whilst also tasting good – it's not a lot to ask now is it…"