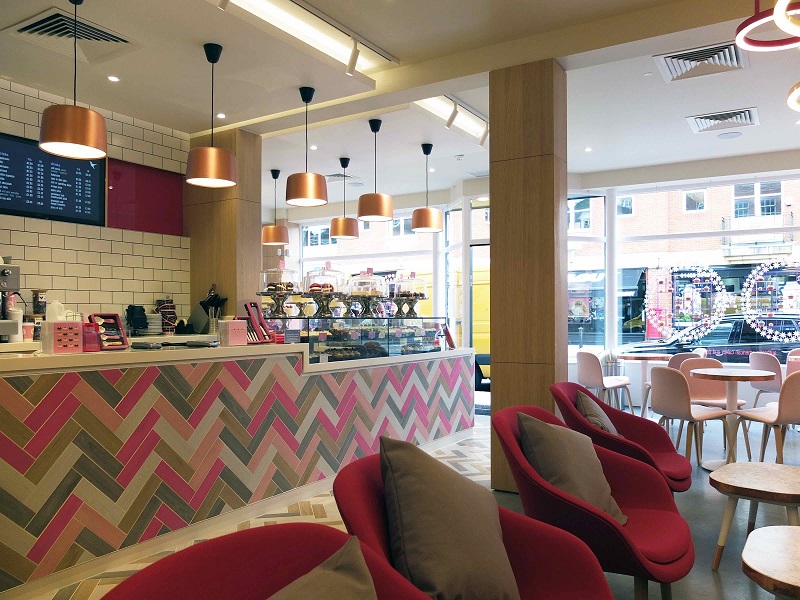 The Hummingbird Bakery has become a popular location in London, with names like Lady Gaga, Victoria Beckham, Adele, Madonna, Pippa and Kate Middleton, the Duchess of Cambridge among their list of customers.
Firmly established as a go-to in London, The Hummingbird Bakery's founder, Tarek Malouf has revealed plans to open the seventh store for the brand in Guilford. First opening in 2004 on Portobello Road in London, The Hummingbird Bakery was a vital part of the cupcake craze that swept London and the entire UK. Opening in the world-famous market, the bakery gained a large following and has experienced continual success.
The rpa:group has worked on all of the brand's six bakery locations across London. The other locations for The Hummingbird Bakery are South Kensington, Soho, Spitalfields, Islington and Richmond.
The new branch in Guilford also reveals a new design style for the brand, and has been created as a collaboration of rpa:group;s architecture, design, and project management teams. The new bakery has been advertised as a development from the previous designs and concepts used in the branches before. Previously, The Hummingbird Bakery was designed with the look and feel of a 1950's style kitchen, whereas this new Guilford location has gone for a more Scandinavian vibe that has become popular more recently. The new bakery features light and open elegant interiors with bursts of wooden elements and complemented with different surfaces that work to add texture, variation and interest.
The beautiful designed Bakery site has been clad in part with ivory oak, a concrete resin floor with herringbone tiles inlaid. There is a mixture of tailor made LED halo lights and copper aluminum pendant lights. The Hummingbird Bakery signature pink is also used throughout the decor, and there is also a range of comfortable banquet seating.