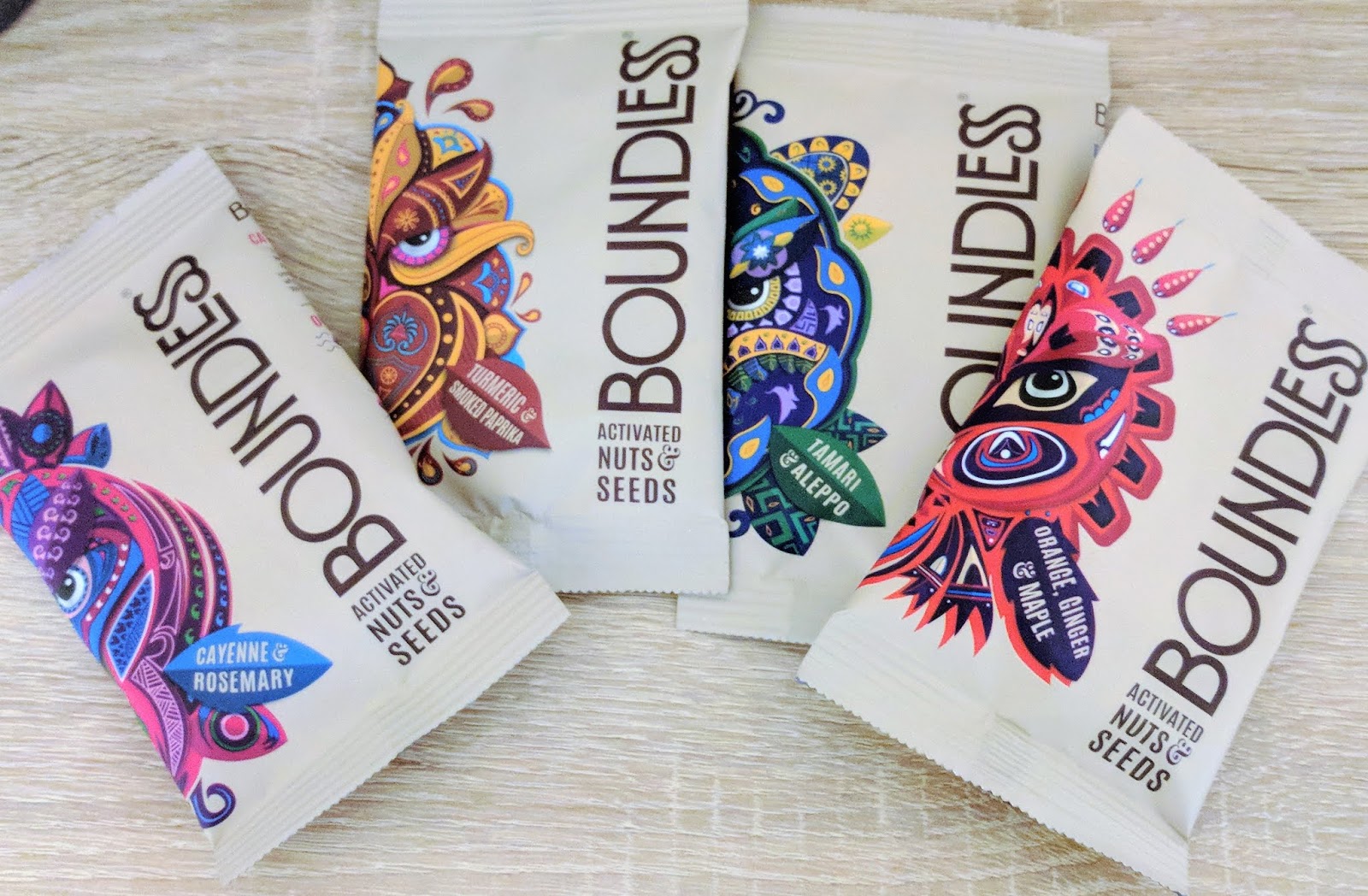 For a 12 week trial period, Sainsbury's stocks Boundless activated nuts and seeds among 10 other startup brands, across 69 superstores
From June 23rd, Sainsbury's shoppers will have the opportunity to buy Boundless activated nuts and seeds, as the supermarket will be launching their first ever 'Taste of the Future' campaign across 69 of its superstores in the UK. This campaign consists of Boundless and 10 of the top up and coming challenger brands which will be on trial for 12 weeks on Sainsbury's shelves. With the help of shoppers stocking up on Boundless, there will be a chance to be continually stocked in stores.

Boundless is on a mission to let loose game changing flavour. They make activated handy snacks that are bold in attitude and big on quality, baked with gutsy blends and spices, packing an incredible flavour punch. Forget dry roasting and dousing in salt, they have discovered a better way from the Aztecs and Aborigines. Soaking nuts and seeds in water before baking them unleashes a whole bunch of goodness lying in wait inside.
Boundless' registered nutritionist, Yasmin Muswell says, "Consuming activated nuts and seeds can ease and take some pressure off the digestive system, and is thought to enhance the availability and digestibility of nutrients to the body." She continues by sharing, "Boundless nuts and seeds are perfectly-portioned at 30g per pack, which is handy for the consumer considering 30-50g of nuts and seeds is the advised daily serving for a healthy, balanced diet."
Truly set apart from the rest due to their intrepid pursuit of the extraordinary in flavour combinations (Orange, Ginger & Maple, Cayenne & Rosemary and Turmeric & Smoked Paprika) Boundless is sure to make Sainsburys' shoppers fall in love with this new innovative brand. As Boundless says "go with your gut".
Cathy Moseley, Founder of Boundless shares,
"This is an unbelievable opportunity that has been given to us by Sainsbury's, enabling us to spread the Boundless ethos. Our brand is all about fierce flavour and good health, proving that healthy and tasty in the snacking world can be one and we don't have to compromise. Our handy bags are here to take the headache out of snacking, giving you your daily dose of nuts and seeds to help look after your health but to make sure your taste buds aren't left behind. So step out of the box and join our tribe."
To support your favourite nuts and seeds snack, check out their Instagram @eatboundless and head down to Sainsbury's to stock up on Boundless while you can! With your help, Boundless could be stocked in Sainsbury's permanently. For more information on flavours and nutrition, visit www.weareboundless.co.uk.

Other Taste of the Future brands include: Aduna, Feed, Made for Drink, Nibble Protein, Prime Bar, Sea Chips, Seaweed & Co, Smith & Sinclair, Soulfresh and TeaRex, most of which are brand new to the market.


Participating Sainsbury's store locations include: London (Chiswick, Ladbroke Grove, Islington, Camden, Winchmore Hill, Harringay, Dulwich, Merton, Sydenham), Epsom, Haywards Heath, Tunbridge Wells, Colchester, Woking, Guildford, Hove, Farnham, Hemel Hempstead, Godalming, Plymouth, Gravesend, Shrewsbury, Brentwood, Richmond, Witney, Sevenoaks, Bracknell, Dartford, Chippenham, Christchurch, Gillingham, Hampton, Fareham, Reading, Basingstoke, Torquay, Taunton, Bristol, Tonbridge, Northampton, Sutton, Chelmsford, Huddersfield, Kidderminster, Kidlington, St Leonards-on-sea, Bath, Staines, Leeds, Croydon, Solihull, Luton, Chichester, Eastbourne, Oxford, Littlehampton, St. Albans, Winchester, Ashford, Alton, Wallington, Benfleet, Exeter, Ipswich, Warlingham, Sutton Coldfield, Winnersh, Bury St.Edmunds and East Grinstead.

For all PR enquiries, please contact Sarah Massey – [email protected]