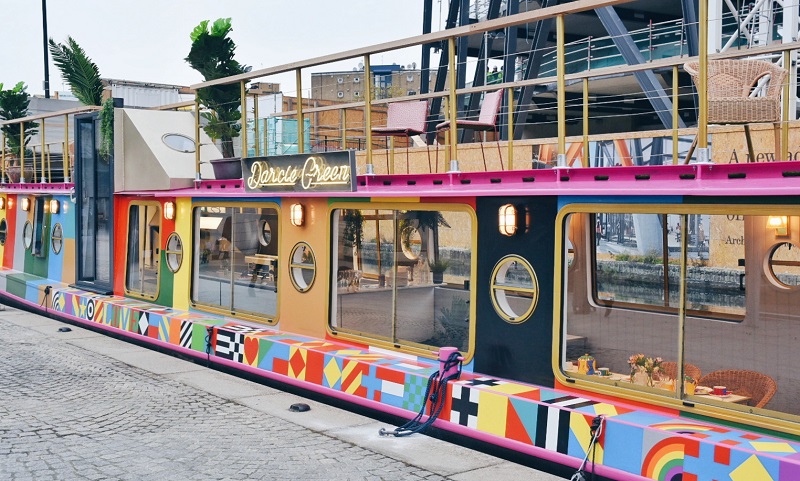 The award-winning restaurant group, Daisy Green Collection has announced that they are opening two dazzling new city barges. The Australian company have officially opened Darcie and May Green, two fun and bright locations situated directly outside of Paddington Station. The two new barges are located in an unparalleled West London water top setting on the Grand Union Canal in order to offer guests a unique dining experience.
The two enormous boats are eye-catching, with a bright geometric exterior which has been designed by Peter Blake, the legendary British pop artist. The restaurants will offer an all-day menu with the fresh Antipodean-inspired cuisine that this popular restaurant group has become well known for delivering. The restaurant will offer a range of Australian dinner favourites as well as a range of contemporary cocktails and natural New World wines and local craft beers, for guests to enjoy in this unique new space.
The founder of the Daisy Green Collection, Prue Freeman worked to oversee the menu served on these two new barges and the food is a reflection of her Australian attitude to food. Those visiting for Bunch will be able to enjoy a long and lazy meal with the menu including vegan coconut French toast, a fancy bacon roll or award winning banana bread sandwich as well as the typically popular smashed avo on charcoal sourdough served with house made labne.
The dishes served aboard Daisy and May Green are comforting and laid back while still being fresh and beautiful. The restaurant group offers indulgence with halloumi fries, stick beef short ribs, Szechuan soft shell crab and grant chicken parmigiana as well as lighter dishes such as the vegan celeriac steak and the seared sashimi grade tuna. Daisy Green is focused on delivering exciting one off local destinations that combine the laid back Australian food culture with art and design.