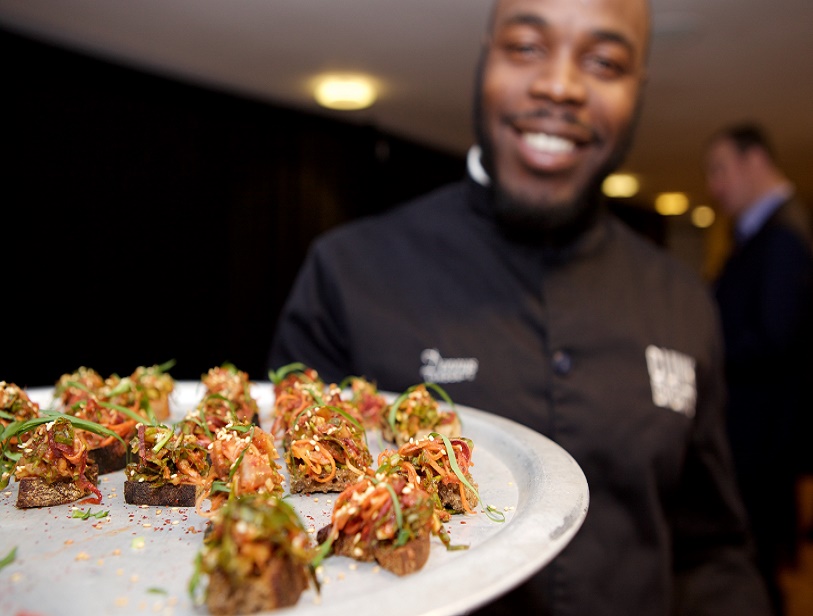 The external catering service run by innovative prisoner training scheme The Clink Charity, Clink Events, has been awarded a three-star 'Food Made Good' rating from the Sustainable Restaurant Association (SRA) after achieving an 'exceptional' score of 78%, putting them in the top 20% of SRA members.
The prestigious award recognises restaurants, cafes, pubs, bars, contract caterers, universities and hotels whose extraordinary accomplishments in the last year have driven advancement in the industry and demonstrated that all food can be made delicious, ethical and sustainable.
Commenting on the achievement, Clink Events director and founder of the original Clink Restaurant, Alberto Crisci MBE said: "I'm really pleased that our commitment to environmental practices and sustainability has been recognised further. All four Clink Restaurants hold the SRA's seal of approval at the highest level and to be able to add Clink Events to that achievement is testament to the hard work that goes in. The three-star award really demonstrates the exceptional standard of sustainability that can be seen right across the board and once again provides evidence of The Clink going above and beyond the call of duty to ensure industry best practice is in place within our organisation and far beyond.
"We're far more than just another corporate caterer and sustainable practices don't simply reach to sourcing, recycling and the environment but we incorporate sustainability into the people within. We don't just offer high quality catering but we give people who deserve a second chance in life the opportunity to change for the better and encourage our trainees to pursue a career in hospitality – an industry facing a severe skills shortage."
Chief executive of the SRA, Andrew Stephen, expressed his congratulations: "Event organisers looking for a caterer that really cares about what goes on a cocktail stick and where it comes from, goes all out to ensure the bare minimum ends up in the bin and truly invests in its staff, can rest assured they will get all this and more from Clink Events. It's magnificent to see the levels of sustainability practised at all of the Clink prison restaurants being matched in the events business."