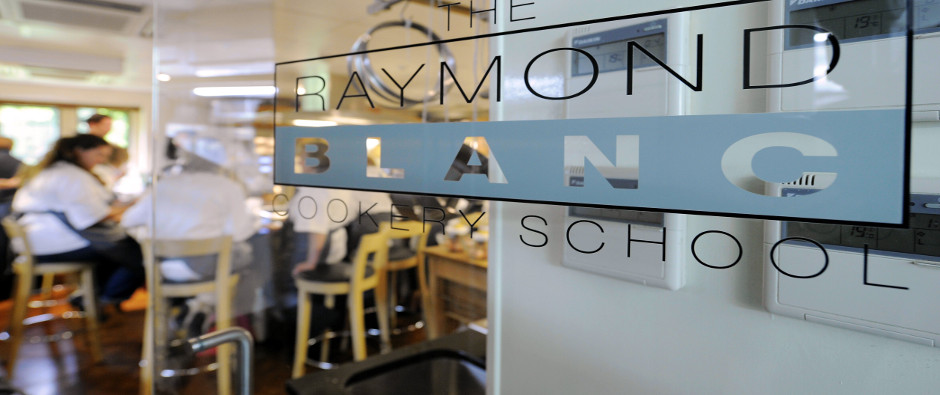 Head Chef Mark Peregrine talks to Dan Stephens about Raymond Blanc's acclaimed cookery school and why his "garden to plate" approach is helping passionate students learn about all aspects of cooking…
Raymond Blanc's unique passion for food is celebrated in quaint Great Milton within the picturesque rustic grounds of the Belmond Hotel. The renowned chef, whose passion for culinary technique was developed as a young child growing his own produce at the family home, promotes the idea of "garden to plate", seasonality and the importance of technique.
His teaching kitchen, which overlooks the working environment of double Michelin-starred restaurant Belmond Le Manoir aux Quat'Saisons, offers a home-from-home experience for guests who share his passion for food. Through practical application and demonstration, the cookery school's team, led by Blanc's first ever apprentice Mark Peregrine, successfully recreates the celebrated chef's culinary genius in a way that is accessible for home cooks of all abilities.
In a relaxed environment, guests are encouraged to develop their enjoyment of cooking through knowledge of ingredients and the ways in which food can be prepared. Simplicity, says Peregrine, is the foundation of good cooking and comes from an ability to match the right technique with good quality seasonal produce. It's what continues to define Blanc's philosophy and by extension the cookery school's curriculum. However, what most people take away from their time in Great Milton is a confidence they never knew they could have in the kitchen.
"The whole point of the cookery school is for people who have an interest in food and want to further their knowledge and abilities in the kitchen," explains Peregrine. "We emphasise to our guests at the beginning that we're all here because of a passion for food and that the training given is geared around encouraging people to develop that passion, add to their skills and have fun in the kitchen."
Developed around seasonal trends and topical themes such as canape preparation for the festive season and gluten-free cooking, the school's courses are suitable for everyone, offering advice and training that will enhance skill and enjoyment of cooking at home. In a fun, relaxed atmosphere, guests gain hands-on experience through half-day or full day courses with dishes and ingredients all found in the Michelin-starred restaurant.
The success of the school saw it refurbish its training kitchen in the summer of 2015 but the home-from-home ambience has importantly been retained. That has formed a huge part of the school's reputation which, while benefitting from the prestige of its sister restaurant, encourages people to be uncomplicated in their cooking.
"The great thing about our school is that it's positioned in the back kitchen where all the guys and girls do the preparation. Through glass windows our guests can look over the kitchen to see all the chefs working. That gives people a better sense of atmosphere when it comes to a professional kitchen, making them feel part of the process.
"However, we want our guests to go away knowing that they can do what we teach them here in their own kitchen. That means using kitchen appliances and utensils found in normal, everyday kitchens at home. Importantly, through this process, we emphasise the importance of ingredients and technique – for example, pan frying, grilling, poaching, steaming – once you learn one you can use those techniques to create lots of other dishes."