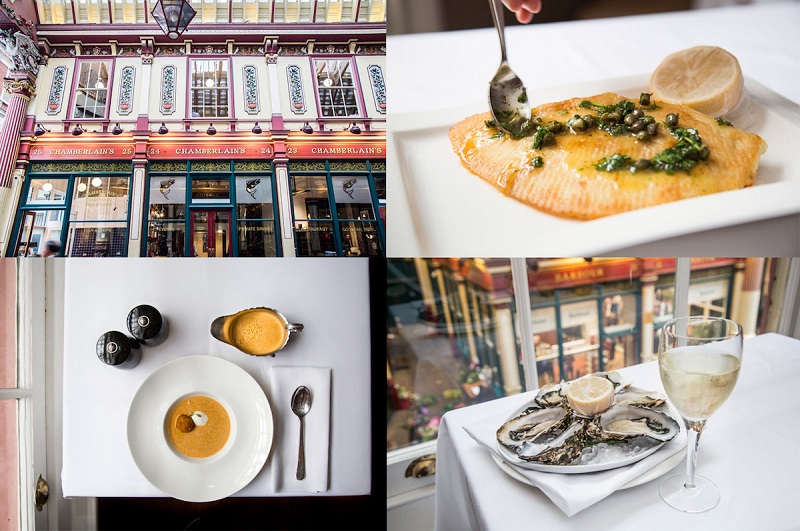 Chamberlain's Of London restaurant will be supporting the move to attract more weekend visitors to The City. This move is taking place in particular in Leadenhall Market, and will see a number of businesses opening 7 days a week. Chamberlain's Of London has announced that they will be open every day for the first time in their 17 year trading history.
Starting on the 11th November, the restaurant will launch a Saturday evening and Sunday brunch menu which will be presented as a la carte and a set menu. Chamberlain's news has come in addition to the news that the amazing Victorian Leadenhall Market is now fully occupied for the first time in five years and The Lord Mayor's Show, which Chamberlain's will be involved in, as a sponsor for the Leadenhall float. There have been a number of new openings in the area including The Ned and Bloomberg Arcade.
Chamberlain's has been serving fish and seafood for 16 years at the stunning Victorian Market. Offering amazing architecture, history and world class retail, food and drink locations for visitors to enjoy, it is great news that the Market and local businesses are trying to encourage more visitors by opening at the weekend. Chamberlain's Of London is in their fourth generation of a family fishmonger business and works to select and supply only the very best fish and seafood which have been supplied straight from the boat via Billingsgate to the kitchen.
Diners will be able to enjoy a Saturday Gourmet Menu or Sunday Brunch menu as of this weekend. Both of these offerings are available from £27 for two courses or three courses for £32. For those visiting on the Sunday, guests will be able to add a bottomless Prosecco or Bloody Mary to the two course option for an extra £20.