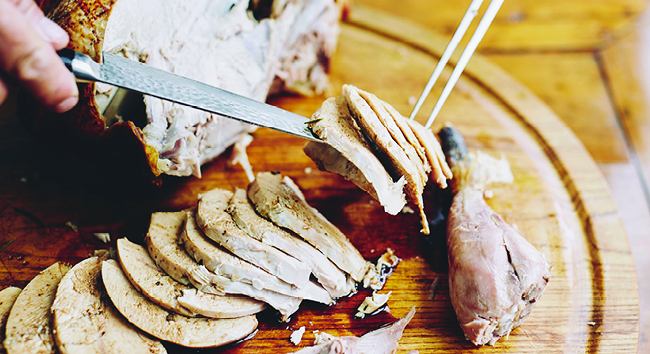 With Christmas creeping towards us, Managing Director of KellyBronze Turkeys, Paul Kelly, has decided to share his six-step plan for carving the perfect turkey. As he is the current Guinness World Record Holder for the fastest carving of a turkey, you know you are in good hands!
1.Wings off first
Hold the wing by the tip. Cut it at the midsection and then do the same again to the other wing.
2.Legs off next
Hold the leg by the end knuckle. Cut through the skin between the leg and the body and twist off. Now do the same again to the other leg.
3.Breast meat off
Use the tip of the knife, cut along the breast bone, making sure you keep the knife close to the bone until the breast is removed. Do the same again on the other side!
4.Peel off both leg and breast skin
Place the turkey on a baking tray. Season and return to a hot over for approximately 10-15 minutes until crisp and delicious!
5.Slice it up
Slice up the breast meat and carve the leg off the bone.
6.Enjoy!
Pour over the reheated gravy juices from the bird and allow time to soak up the juices before serving. 
To help you out with the leftovers we are also offering you a quick recipe to make sure you use all of the turkey!
Hoisin Glazed Turkey Wrap
Ingredients
200g leftover cooked KellyBronze turkey shredded using two forks
10 – 12 ready made Chinese style pancakes (or mini flour tortilla's) warmed
1 bunch spring onions, finely cut into matchsticks
1/2 cucumber halved, seeds removed and cut into matchsticks
100ml hoisin sauce (or plum sauce) – from a jar
Method
Spread the shredded turkey on a warm plate.

Prepare your vegetables, warm the pancakes as recommended.

Set out the turkey, sliced vegetables and hoisin (or plum) sauce. Fill each pancake with the prepared ingredients, roll up and eat. It's delicious, enjoy!