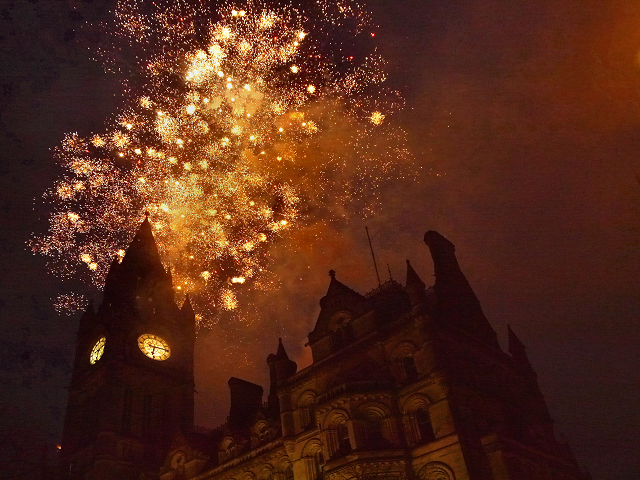 With Halloween creeping in, now is the time to start planning what to do on the spookiest date of the year.
Manchester is offering plenty of tricks to keep you occupied in the season of terror but plenty of treats too, so 2018 could be the year you try Halloween in the city.
Manchester is even being involved in a Monster take over, so look out, beware, there's monsters everywhere. Seriously…
Between the 25th and the 28th October, a group of ghouls and beasts are being let loose over the city, peeping from windows, hiding in trees and even climbing up buildings! An unmissable sight so be sure to have your camera at the ready.
Manchester City Centre is getting involved in the Go Green for Halloween scheme with an array of city centre buildings and shops boosting a spooky green tone to get city lovers in the spirit. The streets of Manchester are also getting glammed up, with pumpkin lanterns in the thousands being scattered over trees and lampposts.
If you're local to the area you've probably already heard of the ghost stories surrounding the enchanted forest, homes to witches and mystical creatures alike. Thirty birch trees at 4 meters high in St. Ann's square deliver a pop-up forest, home to the witch's house and sporting a trick or treat trail on the 27th and 28th October. Be sure to wrap up warm and you might even get to meet the witch herself, if you're brave enough.
If you fancy something a little more active, a pop up mini golf is to be held on Market Street on the 27th and 28th October, inspired by wacky circus characters and fairground freakiness. The game is free to play but hard to win, winners do however have a chance at winning some free golf games courtesy of Junkyard Golf, so it's definitely worth giving this one a try.
Once the sun goes down, the Manchester Writing School, the Manchester Centre for Gothic Studies and Manchester Children's Book Festival have got a rather memorable evening in mind. A digital campfire and some marshmallows make the perfect space to tell some harrowing ghost stories while you settle down under a blanket and enjoy a hot chocolate in the spirit of the season.
If none of this sounds quite your cup of tea there is something for the animal lover, with the spooky-style dog show taking place on October 28th. Head down to Exchange Square to witness the cutest pooches in some frightening costumes.
Still not impressed? Why not grab a bed sheet, get your walking boots on and join in with the community for a world record attempt of the biggest ghostly walk to date! Spooky, Silly and potentially ground-breaking, the walk is taking place on the 27th October, and is in aid of helping Big Change Manchester, a charity in support of the city's homeless.
Manchester is really pushing the boat out this year, so get yourself to the city.
Who knows when there will be another opportunity to witness its buildings in a splendour of green glow or being overtaken by monsters.