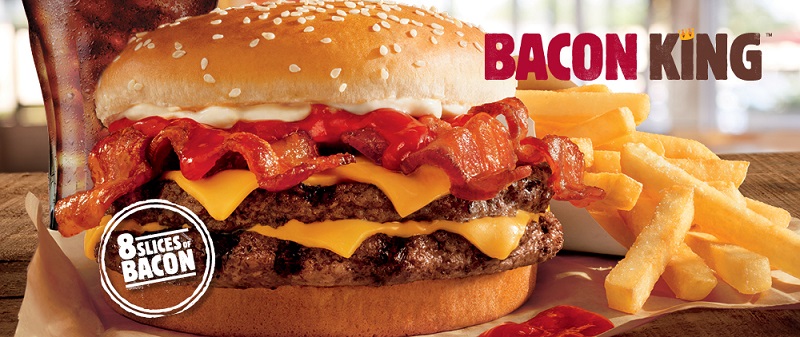 BURGER KING has just launched their new limited edition sandwich in the UK called the BACON KING, which is a hearty burger with EIGHT slices of bacon. This sandwich has already proved very popular among many countries across the world and now it is available in the UK as well!
Bacon lovers have just seen their biggest dream coming true in the shape of eight slices of crispy bacon accompanied by two flame grilled 100% beef patties, four slices of American cheese, ketchup and creamy mayonnaise, all wrapped up in a soft sesame seed bun. This perfect cheat day meal will only cost you £7.69.
For those of you who prefer chicken over beef, fear no more because a delicious Chicken Bacon King will also be available. Made with a chicken patty and topped with eight slices of smoky bacon, this succulent burger will tickle your taste buds.
"BURGER KING is firmly committed to delivering innovative, great-tasting food at affordable prices for all our customers," said Alasdair Murdoch, CEO of Burger King UK. "We hear how much our guests in the UK love bacon and we hope that by introducing the BACON KING sandwich we help to satisfy that craving."
BURGER KING was founded in 1954 and is the second largest fast food hamburger chain in the world. It operates in more than 15,000 locations in approximately 100 countries and U.S territories. Almost 100% of BURGER KING restaurants are owned and operated by independent franchises, many of them family-owned operations that have been in business for decades.
The BURGER KING brand is owned by Restaurant Brands International Inc., one of the world's largest quick service restaurant companies with more than $23 billion in system sales and over 19,000 restaurants. To learn more about BURGER KING and to find more information about its products, please visit: http://www.burgerking.co.uk/.