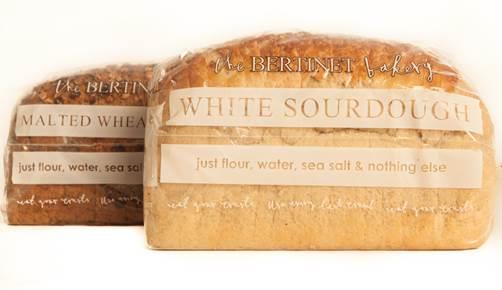 The Bertinet Bakery has announced the launch of a new product. The Bakery company has recently experienced a great deal of success following the launch of their sliced sourdough loaf. In order to expand their range while making the most of this previous success, the Bertinet Bakery have released a new, slightly smaller offering of the sour dough. This new product is a 500g loaf and ha been launched into 80 stores.
The bread was released at 80 different Waitrose stores across the country last week and it i thought that this new sourdough loaf will fill a gap in the market that offers an alternative to standard sliced bread. The Bertinet Bakery has developed this new sourdough product that is baked in tins and can offer the same uses as standard bread, without the additives. This loaf is slightly smaller than regular loaves, but the range includes both white and a darker malted wheat sourdough that is sold with malted wheat flakes melted onto the crust.
The Bertinet Bakery pride themselves on their new sourdough range, made out of a few simple ingredients and not having any additives. The new product resembles a standard loaf of bread but is healthier, natural and has a delicious full flavour. The Bakery already has an established Artisan range that has been developed in order to offer something for every type of bread lover. The Artisan range offered by the company is available in 35 different Waitrose stores across the UK. The Bertinet Bakery is owned and run by Richard Bertinet, the chef and author who has more than 35 years experience as a baker to utilise while baking. Bertinet's four books all refer to a range of different baking aspects. Richard Bertinet's The Bertinet Kitchen is also popular, as customers travel from around the world in order to learn how to bake.