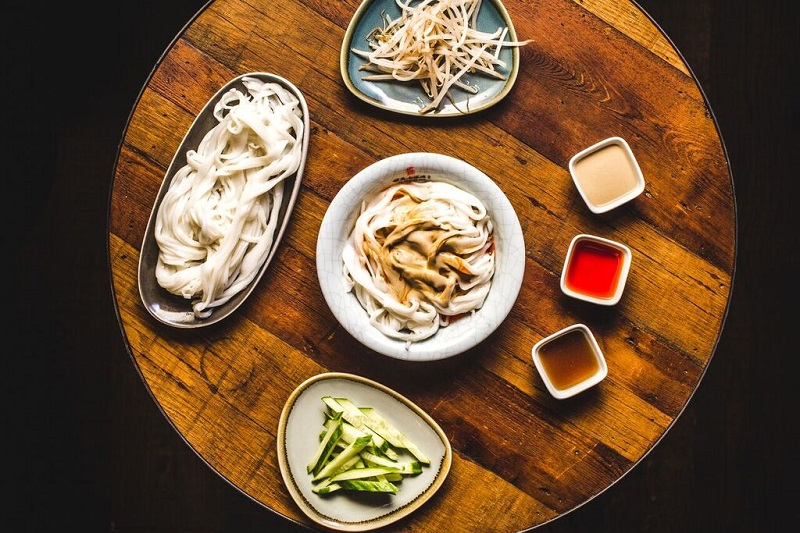 The Asian recipe of this summer are the 'Cold Rice Noodles in Sesame Sauce', inspired by the 'Steamed Rice Noodles in Sesame Sauce', currently available at Murger HanHan in Mayfair. This delicious dish is full of bold flavours that work perfectly as a unique addition to a sunny barbecue or as a picnic in the park.
This versatile dish is suited to vegetarians and vegans, as well as meat eaters that can add shredded chicken into it. In addition, it can also be adapted for coeliacs with the replacement of wheat-free soy sauce.
The ingredients needed for this recipe are:
-1 packet of rice noodles
-1 tablespoon vegetable oil
-7 tablespoons Chinese sesame paste
-6 tablespoons of warm water
-6 tablespoons soy sauce
-2 tablespoons rice wine vinegar
-2 tablespoons sesame oil
-1 teaspoon of cayenne pepper
-1/2 tablespoon sugar
-1 teaspoon salt
-1 tablespoon finely chopped garlic
-1 cucumber, chopped to thin slice
-1 small bag beansprouts
How to cook it:
First of all, cook the noodles, drizzle with vegetable oil and leave in a cool, dry place until cooled. Meanwhile, in a small mixing bowl whisk the sesame paste and water until smooth. After that, add to the sesame mixture soy sauce, vinegar, sesame oil, cayenne pepper, sugar and salt. Mix it well and then add the finely chopped garlic and stir well.
To serve, toss the noodles with a few tablespoons of the sauce and then top it with the remaining sauce, cucumber and beansprouts.
Murger HanHan are specialists in regional Chinese cuisine from Xi'an City, Shaanxi Province, the home of the legendary Terracotta Warriors of the Qin Dynasty. The restaurant is in Mayfair, beautifully decorated, and around 3 minutes' walk from Piccadilly Circus so very accessible. Generous portions and low prices make Murger Han exceptional value for money.