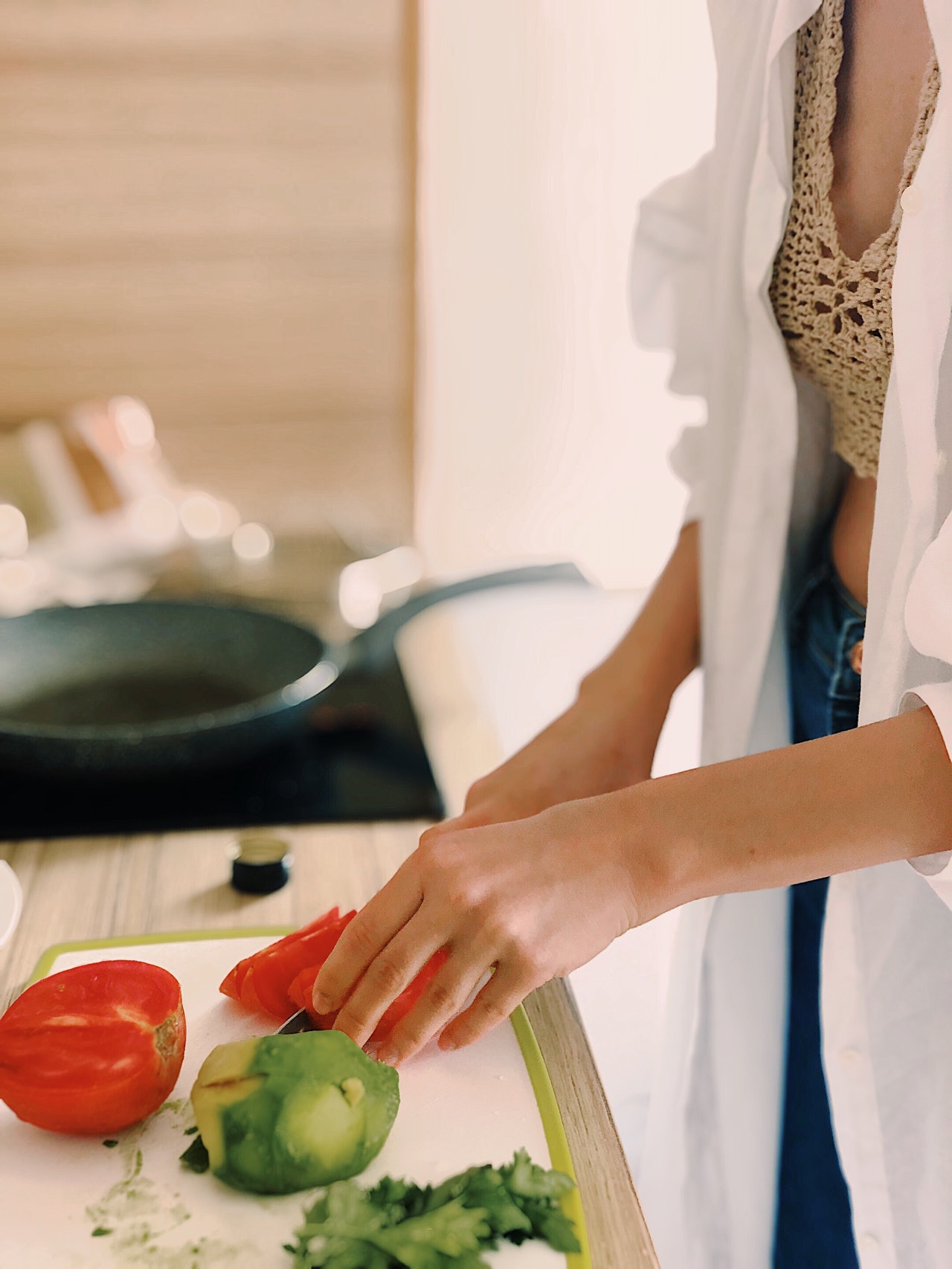 With the three weeknight gems listed below, you won't ever struggle to decide what to cook after a long day at work again. Not only will these short and sweet dishes suit your busy schedule, they're also rather hard to get tired of. Free yourself up, and have some fun while you're doing it — with these recipes, you can prepare from scratch to plate in 45 minutes or less without sacrificing the quality you'd expect from making meals at a more relaxed pace.
1. Tortelloni Carbonara
There's nothing quite like carbonara, and nothing easier than making it. You'll only need a touch of TLC to get the cheesy egg sauce just right, using no cream whatsoever (unless you want Antonio Carluccio frowning down at you from chef heaven). We've tried to stay as authentically Italian as possible here, but if you can't acquire any guanciale (pork cheek), just go with pancetta or thick, unsmoked bacon slices.
For the pasta, any packet of three-cheese tortelloni will do. These usually involve a combination of ricotta with a hard Italian cheese like Parmigiano, and buttery, nutty cheese like emmental or fontina. If store-bought, the fresher the better, but if you make time for it over the weekend, making it yourself is even more rewarding. This option also lets you pick your own cheese filling. In either case, the folks over at Pasta Evangelists recommend that "tortelloni should be cooked for 3-4 minutes until all pieces have floated to the surface."
Ingredients
500g three-cheese tortelloni
4 large eggs yolks, room temperature
130g Parmigiano Reggiano, freshly grated (or Pecorino)
250g guanciale, diced
1 shallot, minced
2 tbsp fresh parsley, chopped (for garnish)
Salt and black pepper to taste
Method
Bring a large pot of heavily salted water to a boil. While the water is reaching boiling point, separate your egg yolks and add them to a small bowl with the Pecorino (or Parmesan) and whisk them together. Set aside.
Dice your guanciale into medium-sized chunks, adding to a large frying pan or skillet. Heat over medium, and cook until crispy (around 5 minutes). If you want extra taste, keep the excess fat. To reduce some of the calories, feel free to put a paper towel over the pieces in the pan.
Add your tortelloni to the water and cook, draining around the 4 minute mark (or 2 if using fresh homemade tortelloni). When draining, reserve around ¼ of your pasta water.
Combine your finely minced shallot and garlic with the guanciale, cooking for around 1-2 minutes. Stir frequently to avoid sticking to the pan or burning.
Now for the tricky part. Pour in 2 tbsp of reserved pasta water into the egg and cheese mixture and mix well.
Turn off the heat to the pan. Add the drained pasta, and, stirring quickly, pour in the egg mixture incrementally, working the pasta around the pan as you add in a little more each time.
Pour in the rest of the pasta water 1 tbsp at a time, until the sauce has reached a thick and creamy consistency. Season with extra pepper.
Plate up, serve hot, and, if you wish, add some extra parmesan along with the chopped parsley.
2. Cheesy chorizo and mozzarella gnocchi bake
Weeknights often see us compromise quality for time, but with a one-pot gnocchi recipe there is no need. Again, a bit of DIY can never hurt if you're working from home and have an extra 45 mins to spare, but this may not be the case for everyone. If you're using store-bought, prepackaged gnocchi, that's also completely fine — but for this recipe, we recommend sautéing, as boiling can lead to it overcooking and losing its shape.
The fluffy texture of fresh gnocchi, combined with the mild but distinct spices of Spanish chorizo sausage may not be authentically Italian, but when it looks, smells, and tastes this good, who cares? This soft and sumptuous bed of gnocchi, languishing in rich layers of tomato sauce with a gooey, golden layer of mozzarella cheese, is the winter warmer you've been waiting for.
Ingredients
1 tbsp olive oil
1 onion, finely chopped
2 garlic cloves, crushed
120g chorizo sausage, diced
2 x 400g chopped tomatoes
1 tbsp caster sugar
600g fresh gnocchi
125g mozzarella cheese, strewn into chunks
Small bunch of torn, fresh basil leaves
Spinach (optional)
Method
Heat your oil in a frying pan or skillet over medium heat. Fry the fine chopped onion and garlic for around 8-10 minutes until soft and caramelised.
Add the chorizo chunks, frying for around 5 minutes more. Absorb any excess fat using a paper towel.
Tip in the canned tomatoes and a little sugar, seasoning with salt and pepper to taste.
Once you have brought to a simmer, add your gnocchi and cook for around 8 minutes — stir frequently until they are nice and soft.
Set your grill to high heat. Meanwhile, in the pan, stir in around ¾ of the mozzarella and most of your basil, combining thoroughly with the gnocchi. If you're inclined, add your washed spinach at this point and mix well! The moisture of the other ingredients will soften the leaves.
Transfer the gnocchi mixture into six small, ovenproof dishes — ideally a soufflé dish or a ramekin. If you don't have any, pile into one baking dish.
Sprinkle over the rest of the mozzarella, and slide under that grill for around 3 minutes or until the cheese is melted and golden.
Add any additional seasonings or herbs, and serve hot.
3. Grilled mango chicken with lentils and yogurt
Mango and chicken may seem like an odd couple, but their sweet and savoury pairing can swiftly turn your run-of-the-mill weeknight dinner into an exquisitely exotic alternative. Not only does the tropical, juicy fruit itself bring a tangy vibrancy to the curry sauce, the optional mango-chutney infused marinade will caramelise the grilled chicken beautifully.
For this recipe, we see no problem with the curry going solo, or with roti or flatbread on the side. However, if you're feeling traditional and in need of some extra energy, some fluffy white rice will do nicely. If you have time for any more adventurousness while the curry mixture is simmering, why not not spice up your rice with some fresh herbs and vegetables, such as parsley, coriander, and diced carrots?
Ingredients
250g split red lentil
1 tsp coconut oil
1 large onion, medium slices
1 mango, diced
1 chili pepper
3 garlic cloves, minced
1 tbsp black mustard seeds
1 tbsp cumin seeds
30g fresh ginger, grated
1x 400g can chopped tomatoes
4 tbsp mango chutney (optional)
500g free range chicken breasts, sliced
3 tbsp natural yoghurt
Coriander, chopped, and lime wedges, to serve
Pitta or flatbread (optional)
300g basmati rice (optional)
Method
Heat oil in a large pan over medium-low heat. Add the onion and cook for 5 minutes, then add garlic for 2 more minutes.
Stir in cumin and mustard seeds with the ginger, and cook for an additional 2 minutes.
Add the can of tomatoes, lentils, mango, and 600ml of cold water. Bring to a simmer and cook for 20-25 minutes, stirring until lentils are softened.
Meanwhile, heat your griddle or grill to a medium-high heat. Put your chicken in a bowl, and mix with the yoghurt and (optional) some mango chutney. Grill for 12-15 minutes until the chicken starts to char, then turn over and repeat until it is cooked through. Set aside to rest.
Slice the chicken and plate atop your lentil curry mixture (and rice if prepared).
Garnish with the lime and coriander, and grab it while it's hot!