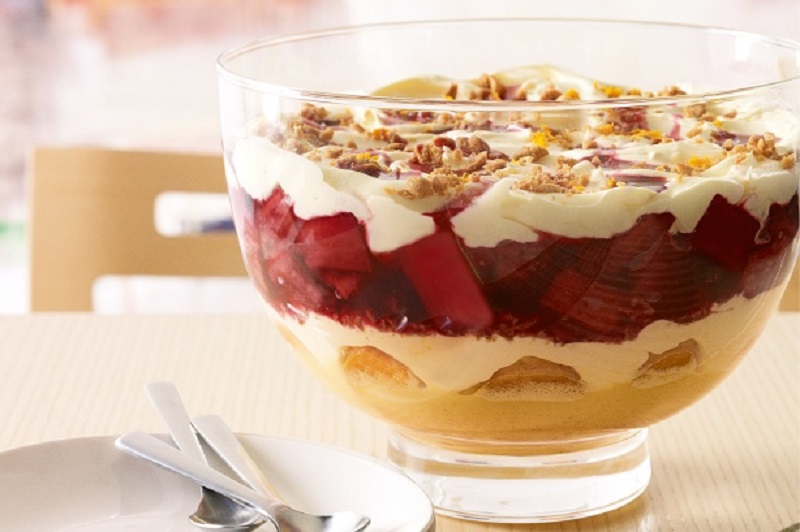 Christmas is a time of indulgence, with crispy roast potatoes, juicy pigs in blankets, and boxes of moreish chocolates. You probably have your favourite tried-and-tested festive recipes to follow too, with lots of us following family traditions of making dishes in particular ways. But how about trying a new festive recipe this time round?
Clear your fridge freezer out to make room for your festive treats (wouldn't it be handy to have a big Fisher & Paykel fridge at this time of year?), then roll up your sleeves to do a spot of Christmas cooking…
Cranberry sauce
Cranberry sauce out of a jar is absolutely fine, but once you've made your own, you'll never go back. This recipe is just sweet enough, with plenty of depth of flavour and lots of zing:
Ingredients:
75g light brown soft sugar
250g fresh cranberries
1 orange, peeled and chopped
½ teaspoon mixed spice
A pinch of freshly grated nutmeg
A splash of port
Method:
Blend all of the ingredients together in a food processor until smooth. Taste, adding a little more sugar if you'd prefer it to be sweeter. Serve it cool, or as Nigel Slater suggests, gently heat it through and devour it warm alongside your roast turkey.
Mince pies
If there's one thing that's a whole more delicious when it's homemade, it's a mince pie. This recipe makes a batch of buttery, lightly spiced mince pies – perfect with a cup of tea or with a small glass of sherry on Christmas Eve:
Ingredients:
500g strong plain flour (and a little extra for dusting)
175g icing sugar
375g cold butter cut into cubes
Zest and juice of 1 large orange
500g mincemeat
1 egg, beaten
Method:
Heat your oven to 190C/170F/gas mark 5. In a food processor, combine the flour, icing sugar and butter until it forms fine crumbs. While the blade is running, add the zest and 3 tablespoons of orange juice. This will form clumps – add a little more of the orange juice to bring the pastry together.
Press the pastry into a ball, then chill it in the fridge for 30 minutes or until firm. Roll out the pastry on a lightly floured surface until it is the thickness of a £1 coin. Cut 12 circles using a pastry cutter and lightly press each into a non-stick bun tin.
Re-roll the trimmings and stamp out 12 stars for the top – they should be just large enough for the points of the starts to touch the outer edge of the pastry cases.
Fill each round with 1 tablespoon of mincemeat, then lightly press a pastry star onto the top of each. Take care not to overfill the mince pies. Brush the top with egg and bake for 15 – 20 minutes until golden and crisp.
Festive cherry trifle
After a large Christmas dinner (and perhaps a second helping of roast potatoes), you'll want a dessert that feels indulgent yet refreshing. This cherry trifle is exactly that – reduce the amount of cherry jam if you'd like it to be a little more tart, and see if you can resist dipping a spoon in it every time you walk past the fridge…
Ingredients:
450g cherries, de-stoned (reserve a few whole cherries for the top)
340g cherry jam
450g madeira cake
100ml kirsch
5 Amaretti biscuits, broken
300ml double cream
Method:
In a pan, cook the cherries and cherry jam over a medium heat for up to 10 minutes, until softened. Remove from the heat and allow to cool slightly.
Cut the madeira cake into 1cm-thick slices, spreading half the cake slices with the cherry jam. Sandwich the remaining cake slices and cut them in half.
Pour the kirsch into a shallow bowl, dip each sandwiched cake slice into the liqueur, then arrange into the base of the trifle dish. Line the edges of the dish, then fill the centre with the remaining sandwiches. Pour the remaining kirsch on top of the sandwiches, then spoon the cherries and juice from the pan on top of it all. Scatter over the broken Amaretti biscuits.
Pour over cool custard, whip the cream lightly and spread it over the top. Decorate with fresh whole cherries and chill for up to 24 hours before serving.
Will you be trying any of these delicious Christmas recipes this year? They're all very straightforward to make, don't require too much in the way of equipment and can simply be left in the fridge or in an air-tight container before being eaten; perfect when fridge space is at a premium.