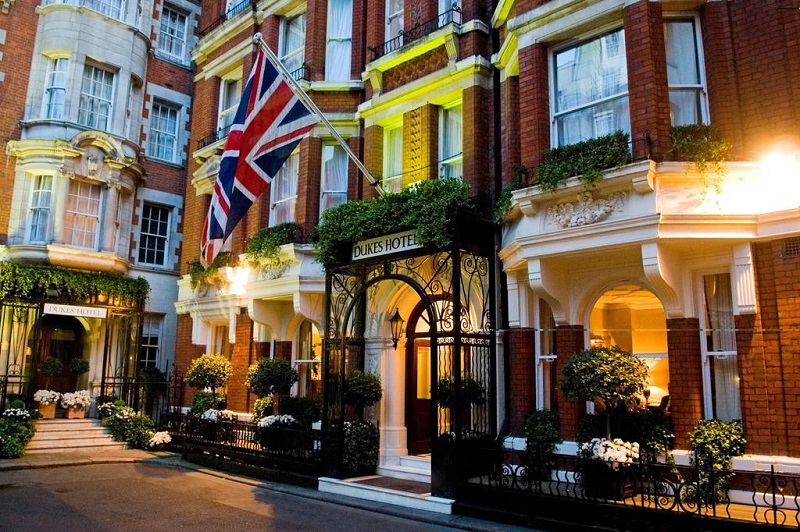 Dukes London, the award-winning hotel located in Mayfair has announced that they have formed a brand new partnership with the heritage Champagne brand, Pommery. Guests of the five-star hotel will now be able to enjoy the luxurious drinks brand in the chic GBR, the go-to restaurant in Mayfair.
Visitors will be able to enjoy the deluxe drink offering in a number of more familiar spaces such as DUKES Bar, the Drawing Room and as a part of room service as well as in the newly opened GBR. The new popular restaurant opened in May and in order to celebrate the new collaboration with Pommery, GBR will be launching a series of 'Pommery Experiences'. The first of these is the Christmas-themed Pommery cocktail, the Christmas Cranberry Cocktail which has been created to add an extra level of glitz and luxury to any occasion.
The new partnership that has been created between Dukes and Pommery is another reason to visit this fantastic hotel, and to dine at the GBR restaurant. Located at the heart of St. James' and a short distance from Piccadilly Circus and the West End, an ideal central London break location. The all-day dining venue attached, GBR is the perfect location to stop after a day's Christmas shopping. Alternatively, those wanting a location to catch up with family and friends can spoil them with a truly luxurious Champagne Afternoon Tea. Those going to the theatre can enjoy lunch or dinner pre or post performance without having to worry about missing the show.
This partnership between Dukes London and Pommery has been announced during a time when the hotel is making a number of changes to its public areas and bedrooms. These changes have come as a part of a multi-million-pound refurbishment programme. The final changes to the hotel will be completed by Spring 2018. The refurbishment works will also coincide with the 110th anniversary of Dukes. It seems a perfect way to celebrate such a historic anniversary, with the partnership with a 19th Century French Champagne house.