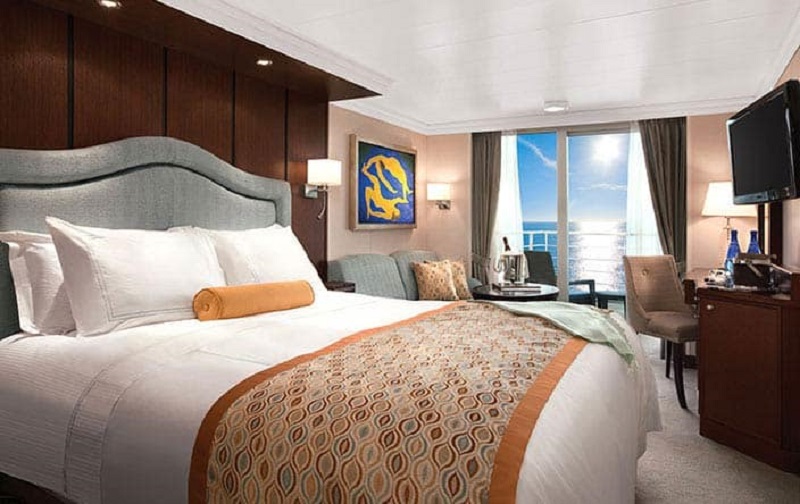 New Amenities Include Free Laundry Service and In-Stateroom Lunch and Dinner Service from The Grand Dining Room
Oceania Cruises, the world's leading culinary- and destination-focused cruise line, unveiled enhanced Concierge Level Stateroom amenities which include free laundry and in-stateroom dining service from The Grand Dining Room during lunch and dinner.
"The last thing you want to worry about on vacation is doing chores such as laundry, you want to be relaxing. So, we've solved that problem and we've provided an even greater incentive to relax in the comfort of your stateroom – lunch or dinner from the Grand dining Room. The laundry is done and lunch and dinner are taken care of, what more could you ask for?" stated Bob Binder, President and CEO of Oceania Cruises.
After a long invigorating day of exploring ashore, guests may indulge in the luxury of ordering room service from The Grand Dining Room dinner menu, enjoying favorite courses such as the Herb-Crusted Rack of Lamb with Vegetable Ratatouille & Gratin Dauphinois and the mouth-watering Papuan Chocolate Volcano with a passion fruit center all in the exquisite comfort of their stateroom. Need a few items of clothing washed for later in your voyage? The staff will take care of that too so guests can spend extra time relaxing. It's all included with the newly expanded amenities in our Concierge Level Veranda Staterooms.
NEW Concierge Exclusive Privileges
NEW – Room service from the Grand Dining Room menu during lunch and dinner
NEW – FREE laundry service – up to 3 bags per stateroom
Priority noon embarkation
Aboard Marina and Riviera, exclusive card-only access to private Concierge Lounge staffed by a dedicated Concierge and featuring complimentary soft drinks, coffees and snacks throughout the day
Unlimited access to Canyon Ranch SpaClub® private Spa Terrace
Complimentary welcome bottle of Champagne
Priority online specialty restaurant reservations
iPad® upon request for your enjoyment onboard
Free Unlimited Internet
Complimentary Oceania Cruises logo tote bag
Cashmere lap blankets, perfect for relaxing on the veranda
Complimentary pressing of garments upon embarkation
Complimentary shoe shine service
About Oceania Cruises
Featuring a fleet of intimately luxurious ships, Oceania Cruises offers an unrivaled vacation experience renowned for the finest cuisine at sea and destination-rich itineraries spanning the globe. Seasoned world travelers are drawn to Oceania Cruises' expertly crafted voyages, which call on more than 370 ports across Europe, Asia, Africa, Australia, New Zealand, the South Pacific and the Americas. Spacious and elegant accommodations aboard the 684-guest Regatta, Insignia, Nautica, and Sirena and the 1,250-guest Marina and Riviera invite guests to explore the world in unparalleled comfort and style.