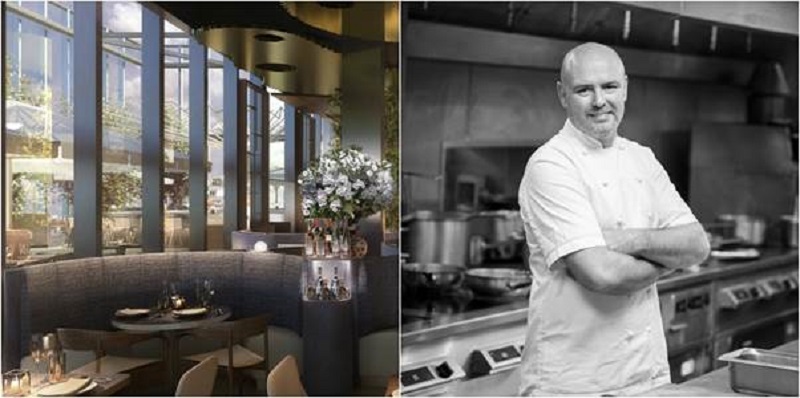 The popular, UK-wide restaurant group, D&D London has announced that Chef Aiden Byrne has been appointed as the Chef Director of a brand new restaurant. The restaurant, 20 Stories will be opening in February 2018 and will be located on the 19th floor of the No.1 Spinningfields building.
Chef Aiden Byrne was formerly the Chef Patron at Manchester House, the renowned chef will be joining the team at D&D London with a wealth of in depth knowledge of the Manchester area, as well as a great deal of Chef experience, having worked in a number of different Michelin-starred restaurant. Aiden has in the past worked at establishments such as Adlards, The Commons Restaurant, Dansfield House and Spa and the Tom Aikens restaurant.
20 Stories, the new Manchester restaurant will offer a 360 degree view of the city's skyline and will offer a modern British menu that celebrates local produce and suppliers. The produce used in the menu will be sourced no more than 50 miles away from the city when possible. The 15,263 development on the rooftop of No.1 Spinningfields has will offer a restaurant and a more casual brasserie that will serve dishes mainly from the grill. The bat at this new location will offer a unique and innovative list of modern cocktails and craft beers to enjoy alongside the amazing food on offer. The restaurant will also have a spectacular rooftop garden which will have two story high trees and an outdoor lounge bar.
The name of the restaurant, 20 Stories pays homage to its skyscraper location and also highlights the original use of the building. Northcliffe House was, in the past, a renowned hub for the printed word and was the ewell-known location of Manchester's centre of news containing a number of printed press publications, including The Guardian and Manchester Evening News.