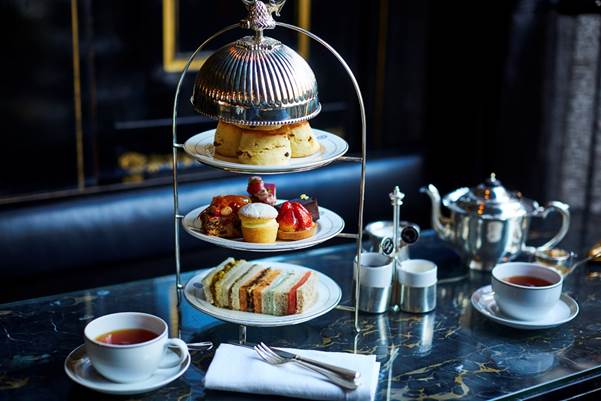 Canton Tea, the luxury wholesale supplier to the premium hospitality sector, and The Wolseley, one of London's best loved restaurants from Corbin & King, have partnered up to celebrate the importance of serving impeccably sourced and immaculately presented teas.
The partnership was launched in tandem with the opening of Café Wolseley and the introduction of a new 'Best of British Afternoon Tea' menu at The Wolseley, Piccadilly. The menu offers handmade scones, pastries and sandwiches, alongside a carefully curated selection of authentic teas, for £29.75 per person. Customers will be able to choose from Afternoon Blend, English Breakfast, Earl Grey, Darjeeling, Assam, Jasmine Bud and Yunnan Green – all of which have been sourced directly from small, traditional gardens in the most remote parts of the world, where tea bushes have grown for hundreds of years.
In the near future, the Tea Caddy Collection will be available for purchase from The Wolseley Shop in Bicester Village, online and at The Wolseley Piccadilly. The range offers biodegradable pyramid tea bags inside unique tea caddies designed with an elegant Chinoiserie motif, evocative of the interior of The Wolseley itself.
This selection of teas will feature the following favourites: Asaam, a royal blend, rich and full-bodied black tea with a unique malty taste from the historic tea plantations of Northern India's Brahmaputra Valley; Yunnan Green, a light and refreshing tea from the high mountains of Yunnan in South West China; and Jasmine Bud, a fragrant tea that combines the smooth green leaves with the sweetest notes of jasmine blossom grown in the sunny hills of Southern China.
Canton Tea seeks out the very best artisan teas and buys fresh tea each season, having established direct relationships with the farmers where the leaves are handpicked and handcrafted to tease out the sweetest notes and most complex flavours.
The Wolseley Shop's Tea Caddy Selection in partnership with Canton Tea will be available to purchase from mid-July online at the price of £14.95 per caddy (20 pyramid tea bags).