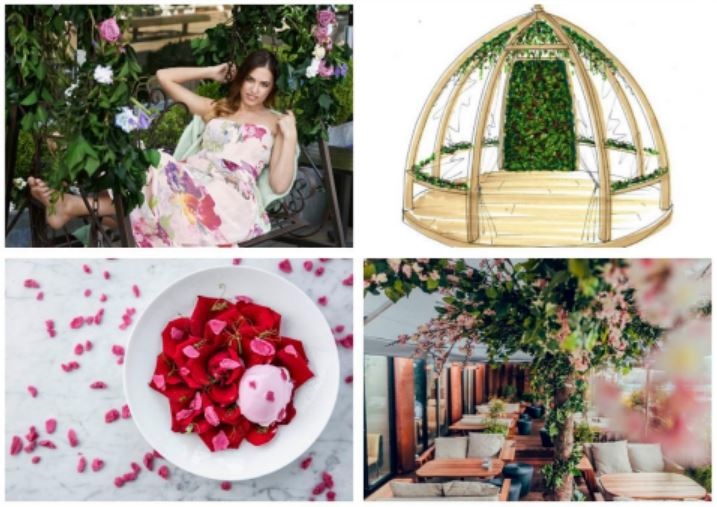 D&D London are launching the third edition of the #BlossomCity18 campaign, which will see all of its restaurants introducing flower-inspired menus, cocktails and floral installations, including the stunning new Bloom Rooms. In partnership with Moët & Chandon, the campaign will showcase the vibrant colours and flavours of the new season from the 14th of May until the end of June.
#BlossomCity18 will support The Gynaecological Cancer Fund, The Lady Garden Campaign, for the third year running, hoping to exceed the incredible £61,510 raised in 2017. A discretionary £1 from ever bill will be donated to the charity and this year, British fashion model Amber Le Bon will be fronting the collaboration.
Moreover, the all new Bloom Rooms will be popping up across London on the terraces of Coq d'Argent, South Place Hotel Secret Garden and Plateau, as well as further afield at 20 Stories in Manchester and Crafthouse in Leeds. The curved wooden domes will be decorated with fresh flowers and winding ivy to resemble an English garden in full bloom, where guests can enjoy a glass of Champagne or a cocktail in the sunshine.
In addition to the Bloom Rooms, other D&D terraces will also be decorated with flowers, including the newly-opened Bluebird Café at White City, which will host a Fever Tree Garden complete with floral swing, pastel deck chairs and special Fever Tree spring cocktails. The riverside terrace at Fiume will be adorned with a floral installation from the famed florist McQueens, while Chef Patron Francesco Mazzei has created a floral gelato menu to enjoy alongside dishes inspired by spring in the south of Italy and drinks in partnership with Peroni.
Following the river eastwards, Cantina del Ponte will launch the beautiful Aperol Giardino and aperitivo menu this May, whilst the St Germain Jardin at Le Pont de la Tour will feature a striking flower wall and a special cocktail menu showcasing the delicate elderflower liqueur. Meanwhile in The City, the Michelin-starred Angler at South Place Hotel will be bringing the Cotswolds to London with an exclusive menu created with Cotswold Distillery featuring sips such as the Hedgerow Martini and British Bellini.
#BlossomCity18 will offer guests at D&D London's restaurants a full summer experience with stunning menus, innovative cocktails, floral terraces and many other events.