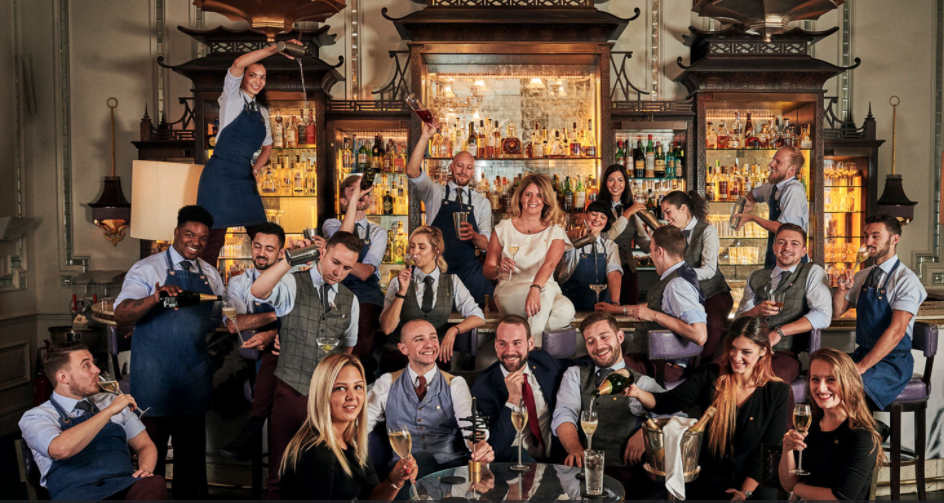 Artesian at The Langham, London has re-entered the Top 50 World's Best Bars at #48. Announced at a ceremony in London's Round House, the celebrated bar's new creative direction and excellent service delivered by bar manager, Anna Sebastian and head bartender, Remy Savage has been recognised at the annual awards now in its 11th edition.
Bar manager, Anna Sebastian, commented, 'We couldn't be happier to rejoin the Top 50. This really is a collective achievement – every one of our team has added their own ideas to the menu and we all work really hard to ensure that our guests enjoy the best drinks in the best atmosphere. I am so proud to work with such a strong team and so grateful for their ambition, creativity and sense of fun.'
Artesian's current menu, A Minimalistic Menu, is the third in a series of conceptually-inspired menus developed by head bartender, Remy Savage, with individual drinks created by everyone within the team. Each cocktail in the 22 drink list has just two ingredients. Created in the Artesian laboratory, the entire team has worked to pair thoughtfully-sourced spirits with just one other key ingredient or flavour. Exploring new methods of preparation and production, a number of components have been made in-house, using rare and unusual elements from across the globe.
'It's so exciting to be back in the World's 50 Best list' said Remy Savage. 'I am thrilled to be recognized for our creativity. At Artesian, The Langham has given Anna and me a platform to really develop our ideas and express ourselves – and for that we're grateful. We've also spent quite some time travelling, visiting great bars and events to exchange ideas in the last two years and that has had a great impact on the whole team's work.'
The World's 50 Best Bars is voted on confidentially by 510 industry experts from 58 countries, each of whom must have visited the bars they vote for personally. This year is the tenth anniversary of the awards and they continues to gain in prominence as the definitive guide to the best places to drink around the world. While London dominated the Top 50 this year, Artesian was one of only three hotel bars in the city to feature in the list.

Artesian first opened in 2007, creating a new drinking destination for hotel guests and locals. Its name is inspired by the 365 foot deep well beneath the hotel and its elegant, yet striking interiors are designed by David Collins' Studio. Artesian has won many awards since opening, including winning World's Best Bar from 2012-2015 under a different team. This year, Artesian has also won Bar of the Year, in Food & Travel's 2019 awards, alongside a raft of different awards for individual team members.