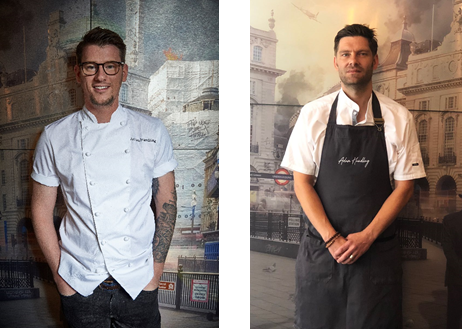 Adam Handling's hotly anticipated Hoxton site is almost ready to open its doors and, ahead of that, he has appointed Daniel Watkins as Executive Chef to oversee food operations across all three of the building's venues – The Frog Hoxton restaurant, Iron Stag bar, and Bean & Wheat coffee and bar.
Bringing with him a wealth of knowledge and expertise, Daniel spent eight successful years as Head Chef of The Anchor (Bib Gourmand recipient) in Hullbridge. Before that, he spent ten years working in corporate fine dining for high-profile clients such as Deutsche Bank.
Daniel has closely followed Adam;s career and the success of his restaurant group and he is happy to be joining the team: "It was during my time at The Anchor that I really developed my style as a chef. Not just in the way I cook, but in the way I think about food. I've always really enjoyed dining at The Frog restaurants, not only because I love the food but also because of the emphasis on sustainable eating throughout the restaurant group."
In his role, Daniel will be overseeing the food offering as he draws on his extensive experience in managing the restaurants. He will be part of an exceptionally talented chef trip, working alongside Jamie Park, who is taking on a more focused role as The Frog Hoxton's dedicated Head Chef, and Adam himself. Together, they will develop the site's tantalising new menus, which will carry an emphasis on relaxed and sustainable dining.
"Daniel's been a big supporter of the group since Frog E1 opened and I've always said I only work with people I know and trust so it's amazing to have him properly on board! He's a great asset to the team and I can't wait to show everyone what we've been working on," said Adam Handling.