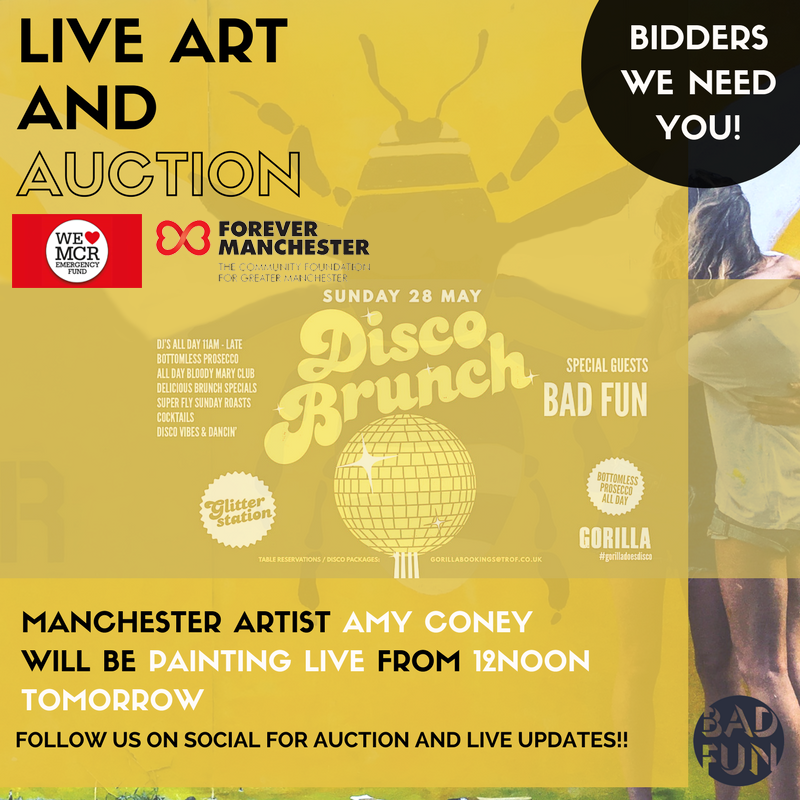 This Sunday, as part of their double disco takeover at Gorilla, Manchester's Bad Fun resident artist Amy Coney will be performing a live painting in honor of Manchester following the harrowing events that took place this week and in a continued push by the artist to bring the wider community together to make a meaningful difference.
From 12noon Amy will be painting alongside brunchers at Disco Brunch with Bad Fun Bank Holiday! The painting, which will feature Tony Walsh's poem 'This Is The Place', will then go to auction, with all proceeds going to the We Love Manchester Emergency Fund and Forever Manchester after this weeks' heartbreak. These two funds then representing initiatives which Amy is very passionate about. 
The art auction will be open to all individuals and businesses and, with the opportunity to procure some truly wonderful art whilst also simultaneously having a charitable impact within the local community, it is hoped that the bidder turnout will be considerable. For those interested, the Ebay auction will be live on social channels from Sunday afternoon (upon completion of the painting) until Sunday 4th June for all who want to get involved – The bidding will be starting at £100 and this is your chance to own an iconic piece of Manchester Artwork and really give something back to the community and, indeed, support the increasingly emerging artistic culture coming out of Manchester itself.
The Bad Fun and Gorilla team will be doing what they can to raise funds and spirits – Disco and donation boxes will be around all day and night for anyone that wants to make a contribution, and optimism is rife for an event which can be remembered as both one of enjoyment and also of unity.
Following that the painting will be on display at Bad Fun Bank Holiday Takeover – Free Entry for all.
Amy Coney commented: "Come lets lift this city ❤"