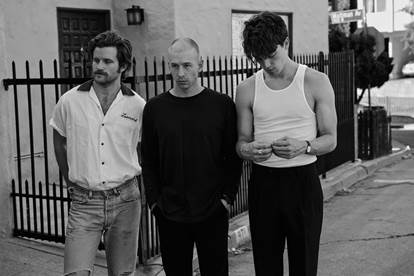 Born in a Nashville bedroom, LANY (pronounced LAY-NEE), comprised of Paul, Les and Jake, the trio that started as a group of friends looking to combine their unique skills to "see what happens," are now finding themselves on the frontier of the digital tidal wave after creating their first Soundcloud page. LANY's unprecedented success on Soundcloud's platform was enough to get Soundcloud's internal cloud of executives to partner with the new artist, and impactful social platforms like Snapchat have been avid supporters. Conglomerates like H&M, Hollister Co. and most recently Starbucks are also playing various LANY songs on their in-store playlists across the country from, aptly, LA to NY in over 13,000 stores.
Masochists in love with an underwritten theme of hopeless romance, LANY frontman Paul opens on debut cuts like "Walk Away," "youarefire" and "ILYSB," with vocals that are glacial while engaging, and draw you into their heartbreak manifesto; and a vibe reminiscent of the 80s on tracks like "Made In Hollywood" and "4EVER!" LANY makes it clear that lethal good looks and vocal prowess are not mutually exclusive, and even guys with all of the above get their hearts broken.
Soon after the release of their first single, LANY was invited to perform a stripped down acoustic version of their hit "ILYSB" exclusively for Gen-Y's social obsession of choice, Snapchat, circulated to the worldwide database on their wildly-popular "Under the Ghost" channel. As it was so well received Snapchat decided to re-air that same video just months later. The bands knack for social media also came into use when Lollapalooza granted LANY access to takeover their Snapchat channel for a full 24-hours while the band were on tour and on their way to Chicago for the festival.
Since their initial experiment to get feedback on what was just an idea a few months ago, LANY has released 6 tracks and 1 EP to their dedicated and rapidly growing fanbase. Often Utilizing the success trends within the millennial landscape, LANY has zeroed in on a gap in the music business that aches for a sound like theirs.
Over the last 6 months LANY wrapped tours with Tove Styrke, Zella Day, Twin Shadow and X Ambassadors. During the early summer they played to a packed out tent at Sloss Festival in Birmingham, AL. While in August, they played under the shade of the BMI stage in sunny Chicago for the spectacular Lollapalooza Festival. They next go out with Halsey for a handful of dates and then headline SF, Nashville and LA to tie up their touring in North America for 2015.
Now Lany are to play at Manchester Arena on the 19th of March 2016, and we lucky people at Feast Magazine are going to be attending this much anticipated event!