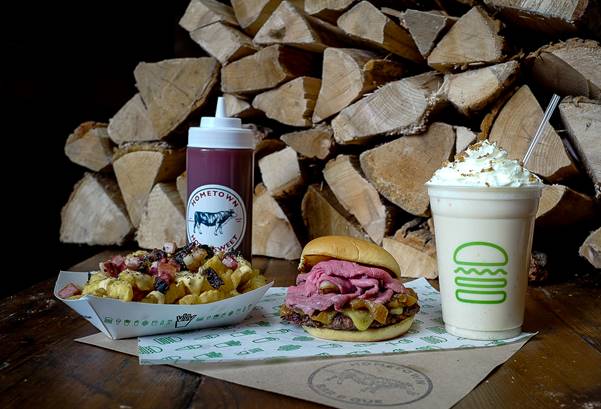 Mansion House Shake Shack is celebrating its 5th Anniversary with a BBQ birthday bash. For this event, they've teamed up with one of the best global BBQ pitmasters – Billy Durney of Hometown Bar-B-Que in Brooklyn, New York – to create an exclusive, one-day-only fest on Wednesday, the 4th of July, between 5pm and 9pm.
"It's so surreal to be celebrating our 5th anniversary in the UK this summer," said Shake Shack Culinary Director, Mark Rosati. "When I think about why I love this time of the year, I think about bringing people together over BBQ and amazing backyard-cooked burgers and hot dogs. We could not be more excited to be bringing out one of our good friends, Billy Durney, an absolute NYC legend, who couples classic BBQ tradition with all the flavours and diversity of Brooklyn, New York. I can't wait for all of our Shack friends in London to come celebrate with us and get a taste."
The limited-edition menu will feature Hometown Shack, a custom-bled Aberdeen Angus beef patty topped with smoked and sliced dry-aged top loin , Ogleshield cheese, caramelised onions, and jus; Hometown Fries, crinkle-cut fries topped with Shack cheddar cheese sauce and pastrami smoked bacon; and Smoked Caramel Bourbon Shake, a vanilla frozen custard with smoked caramel and bourbon, topped with whipped cream, smoked salt, and speculoos cookie crumbles.
Tickets for the event are priced at £5. Each ticket will include a wristband with token for 1x Hometown Shack, 1x Hometown Fries, 1x Smoked Caramel Bourbon Shake and 1x Pint of ShackMeister Ale or Lager. In total, there will be 150 tickets sold as sessions:  5PM – 6:45PM and 7:15PM – 9PM with a limited number on the door sold for cash only. All ticket sales will be donated to the #BakeForSyria campaign, which is curated by London baker Lily Vanilli.