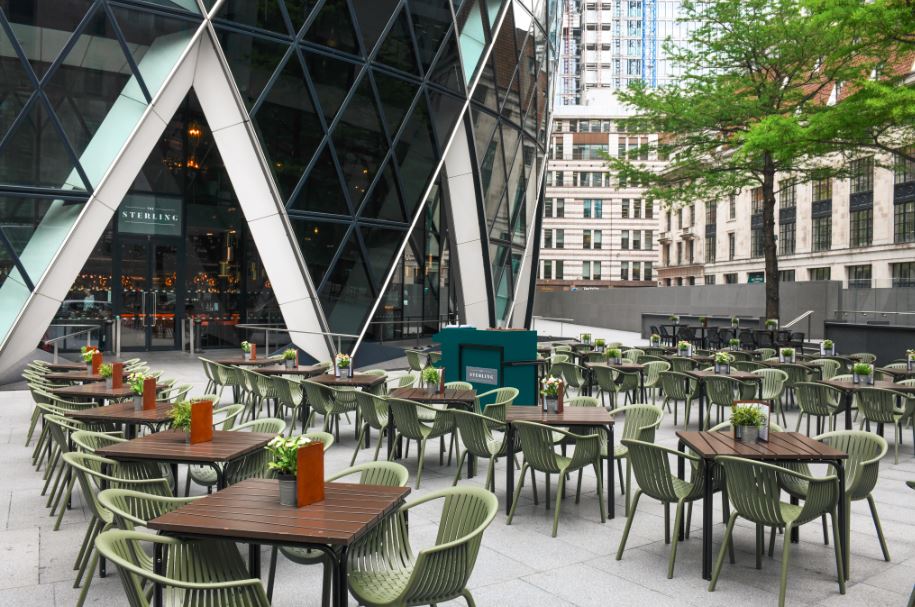 The Sterling has been re-opened by Novus, the leading bar and restaurant operator, following a stunning refurbishment of the group's iconic bar located in the City of London, at the base of the Gherkin.
Both bars at The Sterling benefited from a complete makeover, part of a significant investment that also helped to introduce an open kitchen to showcase the new summer menu. Diners can look forward to a range of seasonal dishes, including The Sterling's twist on a summer hamper, with its range of elegant, picnic-inspired sharing dishes. At the bar, customers can expect a wide range of drinks, with some added liquid sunshine courtesy of the new magnums of Whispering Angel rosé.
"The Sterling is one of our iconic London sites in a truly iconic location. Following our investment in the two bars and terrace at The Sterling, we look forward to welcoming both old and new customers to one of the very best sites in the UK," said Toby Smith, CEO of Novus.
Opened since 2005, The Sterling's recent rejuvenation comes just in time to host a packed summer, with space for more than 160 covers inside and a further 200 outside on the coveted terrace tables at the base of this beloved London landmark.
Novus has been designed to be an unstoppable force, driven by the scale, passion and innovation behind its operation. Its focus is on the entire customer journey and experience, ensuring their customers are at the heart of every decision and more importantly, that they have a voice and a lot of fun.
The business breeds and attracts the very best in the hospitality sector and currently employs over 1,500 dynamic and quirky personalities, from the finest mixologists to business building managers and insightful trainers. Novus was founded in 1999, and as such are the London experts with a major window into what drives and inspires the city's late night scene from 43 locations.