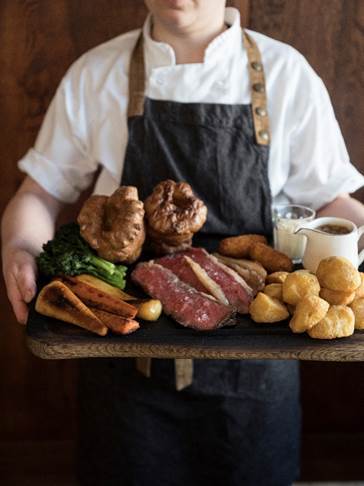 In different times, trying to get a table for Sunday lunch at The Harwood Arms required several weeks' notice. Now you can get all the elements of The Harwood Arms' Sunday roast delivered to your door on Saturday if you order the Wednesday before, and it's available for delivery from June 20 onwards.
Sally Abe, Head Chef at the Harwood Arms (London's only Michelin starred pub and winner of the Gastropub and Gastropub Chef of the Year 2020) has got together with one of the finest beef producers in the UK, Lake District Farmers, to prepare the perfect roast for you to serve at home.
The Harwood Arms Roast Box is available for home delivery across London. It includes a ready to cook 500g piece of sirloin, the exact cut and size which is roasted to order when you eat at the pub in Fulham. To enjoy with the beef, Sally and her team are cooking the perfect sides – including their famous sauce which is enriched with bone marrow and braised beef for the roast; part-cooked potatoes which come with beef fat to be roasted to a golden crunch; carrots baked in hay, a bunch of beautiful greens; a generous fluffy Yorkshire pudding. All come in their own containers ready to pop into the oven and serve piping hot with the beef, alongside horseradish sauce. The box comes with full instructions.
The Harwood Arms Sunday Roast Box for two is £70. There is a larger box available for four people too. It is delivered by refrigerated van to keep everything fresh.
To complement the roast, the Harwood Arms is offering bottles of Brooks Runway Red Pinot Noir from Oregon for £25.
Lake District Farmers have built up a strong reputation for premium, breed specific meat, which is produced by 50 farmers in the Lake District. They have invested in a unique breeding programme to produce the finest native breed beef and other meats.
The boxes will be on sale from 9am Saturday 13th June from www.lakedistrictfarmers.co.uk the cut off for orders for the weekend is the Wednesday before at 4pm. There are only limited numbers available each week, so get the order in fast!