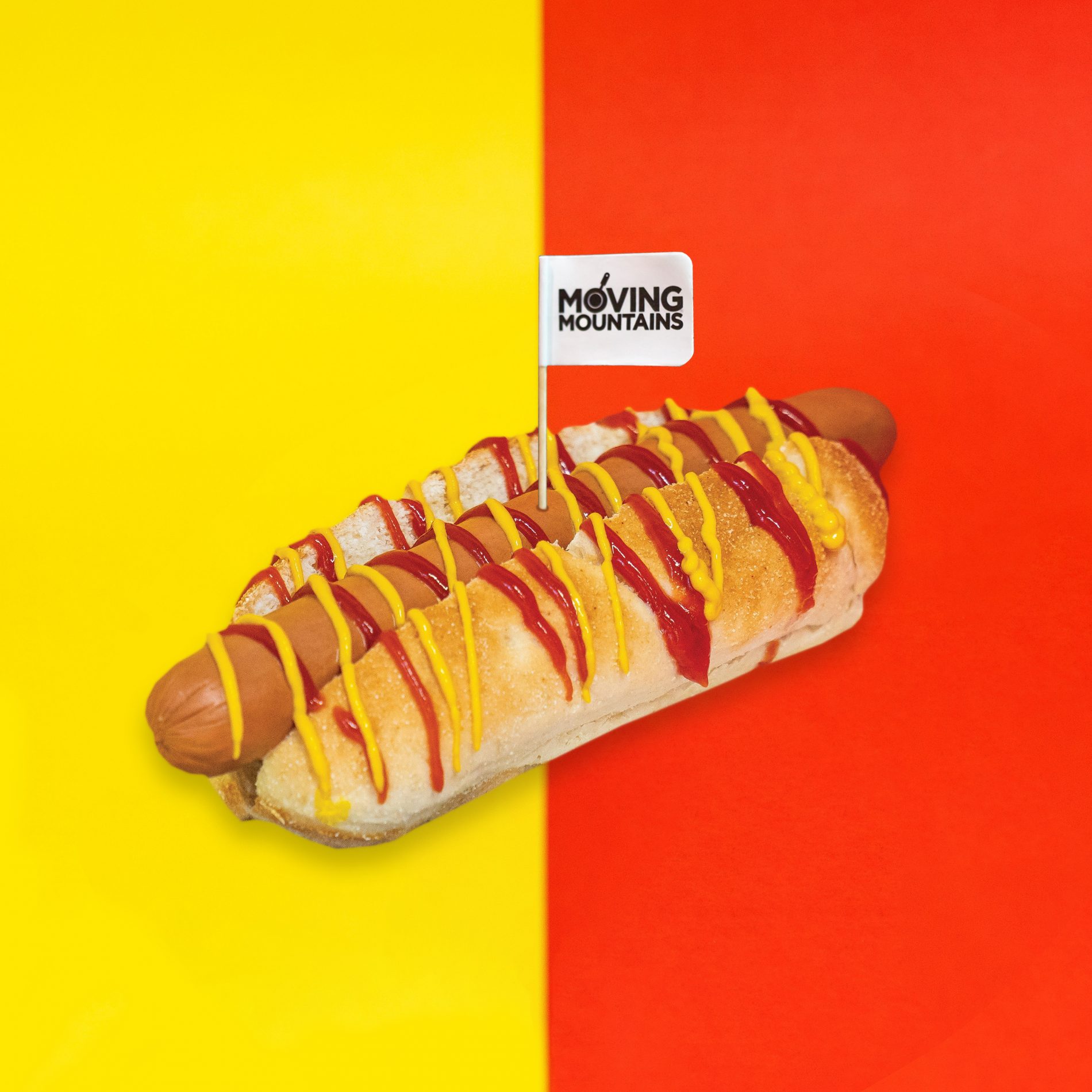 Moving Mountains, the pioneering food tech company leading plant-based innovation into unimagined territory and creator of the UK's first meatless 'bleeding' burger, is launching its second revolutionary product, the Moving Mountains Hot Dog into restaurants on 10th May 2019 and into retail later in the year.
A world exclusive launch unlike any other plant-based hot dog on the market, Moving Mountains has used food technology, incredible scientific processes, specialised machines, local natural ingredients and tested countless recipes over the past year to create the Moving Mountains Hot Dog, which is identical to its pork counterpart in taste, smell and texture.
The food service Moving Mountains Hot Dog is almost a foot long at 10 inches and 3cm in width. It will launch exclusively into restaurants, starting at Unity Diner in London on 10th May. It will sell for £6 at 50% off the regular price (£12) during the launch weekend (10th – 12th May) with a Classic American serve of caramelised onions, mustard and ketchup in a warm bun.
The food tech brand also plans to launch into supermarkets for the first time with a retail version of the Moving Mountains Hot Dog that will be available in different sizes and flavours. The business is currently in talks with supermarkets for a potential retail launch later this year.
Made primarily from sunflower seeds with a delicious naturally smoked flavour and satisfyingly firm yet bouncy texture, the Moving Mountains Hot Dog looks and tastes just like a pork hot dog or frankfurter. It will fool even the most committed carnivores and convince them that a pig isn't needed to make a dog.
With 69% of flexitarians looking to actively trying to reduce their meat consumption, the release of Moving Mountains' second revolutionary product will help them to increase their share in the £284.1 million meat-free category by targeting flexitarian consumers.
By using simple and natural ingredients and the latest food technology, Moving Mountains has turned sunflower seeds into a vitamin rich and gluten free hot dog that replicates a pork hot dog in every way:
· Sunflower Seeds make up the base, which are rich in B complex vitamins, phosphorus, magnesium, iron, calcium, potassium, vitamin E and a high source of protein
· Carrots are used to give the authentic colouring of a hot dog
· Onion helps to give a satisfyingly firm and bouncy texture when biting into the hot dog
· Paprika adds a punch of flavour and is rich in antioxidants
· Coconut oil provides a juicy consistency and helps keep the structure of the hot dog. Unlike the unhealthy saturated fats found in pork hot dogs, coconut oil contains zero trans-fat, zero cholesterol and is rich in antioxidants. Coconut oil contains beneficial medium chain fatty acids including lauric acid, which has been scientifically proven to provide an immediate source of energy and helps boost good cholesterol.
Renowned for pushing boundaries in plant-based innovation and fostering positive change through delicious not-for-profit vegan comfort food, Unity Diner is the perfect location to get a first taste of the Moving Mountains Hot Dog. All of the profits from Unity Diner go directly towards funding the animal rights organisation Surge as well as the development of a brand new rescue sanctuary for animals just outside of London.