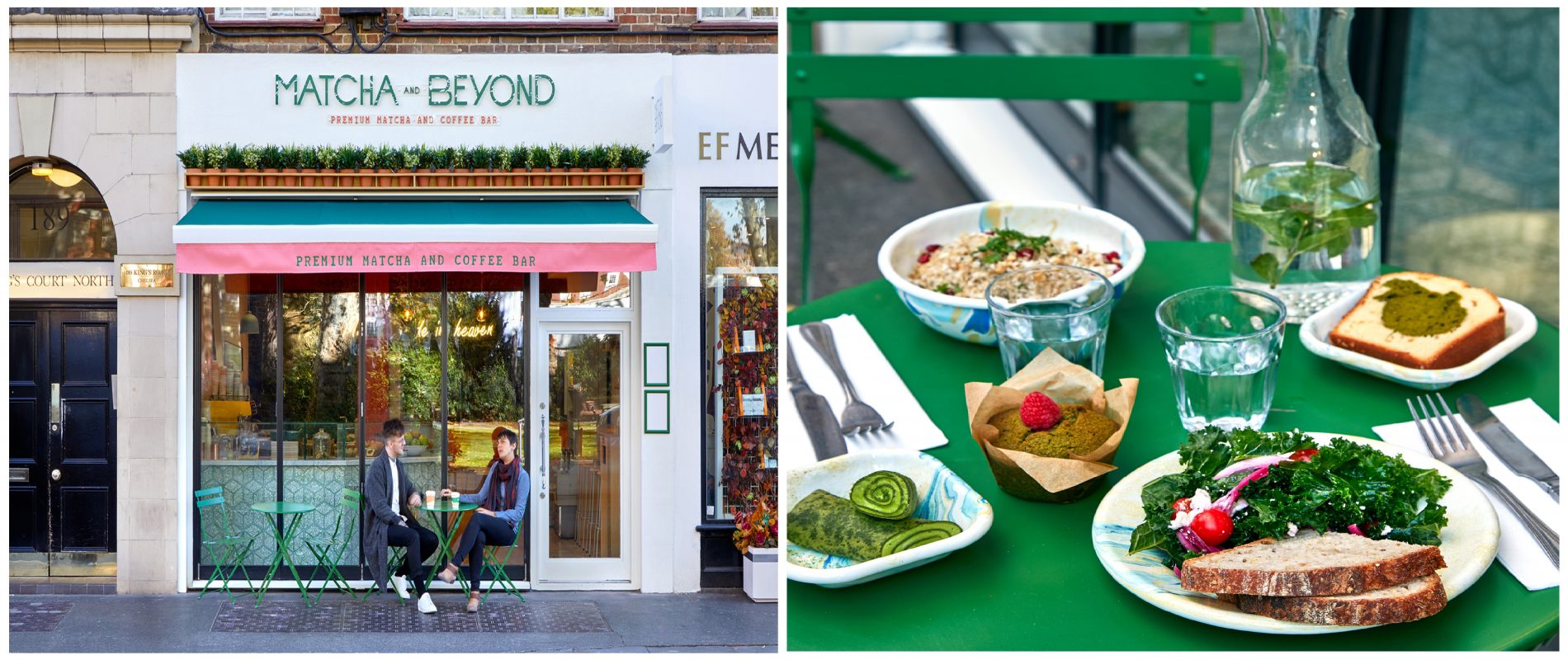 MATCHA AND BEYOND, created by Olivia Nottin, a nutritional therapist and a French certified Natural Chef, has been officially opened on the King's Road in the heart of Chelsea. An alternative to the high street coffee shop chains, MATCHA AND BEYOND offers premium quality matcha beverages, matcha treats, infusions and healthy bites with high quality ingredients.
Drinks
The matcha-based drinks reflect a traditional coffee menu, where customers can order their favourite matcha drink in the same they would coffee: as a shot with added water and a variety of milk-based drinks, cortado, flat green, matchachino, and the obvious latte.
There is a choice of 2 grades, one exceptionally high grade for ceremonial matcha shots and a premium drinking grade for any milk-based drinks. To ensure the highest quality matcha beverage, a dedicated matcharista has been trained accordingly to offer the real matcha experience for MATCHA AND BEYOND's discerning customers.
After careful considerations and many tasting sessions, MATCHA AND BEYOND chose to serve Square Mile Coffee. This multi award-winning coffee roaster, a member of the speciality coffee association and roaster guild, shares the same values as MATCHA AND BEYOND – authenticity, a high standard of product quality and transparency of the products' origin.
Breakfast
The menu reflects MATCHA AND BEYOND's ethos and offer signature matcha treats, coffee shop favourites, gluten free, dairy free and vegan options. For a healthy breakfast, customers can choose either a bowl of warming porridge, coconut yoghurt, Greek yoghurt or stewed apple and customise with granola, an antioxidant mix, seasonal fruits and then add a sprinkle of matcha, coconut flakes, chia seeds or bee pollen. There will also be a selection of croissants, muffins, soft boiled eggs with sourdough soldiers and avocado on toast.
Lunch
For lunch there is a selection of healthy salad bowls: Earth Bowl with green lentils, courgettes, parsley and shaved pink radishes; Kale Greek with kale, olives, crumbled feta, cherry tomatoes and pickled red onions – with additions of salmon, turkey or halloumi. Or choose a cheesy vegan tartine or a selection of house made sandwiches. True to the Founder's beliefs and background as a nutritional therapist, no compromise has been made on quality, health and taste.
Treats and cakes
There is a selection of matcha treats such as matcha energy balls, financiers to home-baked cookies – all made to Olivia's own nutritious recipes. Delicious hero cakes such as a green velvet cake or matcha and vanilla marble cake are a must try for those with a sweeter tooth.