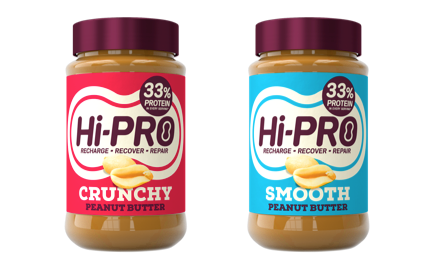 Hi-PRO, the high protein peanut butter brand, has undergone a fresh new redesign this month to appeal to the growing demand of shoppers seeking a high protein diet. The new look packs a visual punch on shelf, with an energetic colour palette that highlights the 33% protein claim and all the clean product qualities; no salt, no sugar, no whey and zero palm oil.
Uniquely for a high protein peanut butter, all the added protein is created by the all-natural peanut ingredients, using whole peanuts, peanut flour and peanut oil to pack a protein hit that ensures Hi-PRO tastes the way nature intended.
"Hi-PRO was originally launched to appeal to athletes and sports people looking for ways to increase the level of protein in their diet in a tasty way. However, in the past year, we have noticed a shift in shopper habits," said Richard Duerr, Sales and Marketing Director at F. Duerr & Sons.
"From regular gym-goers, and marathon veterans, to newly motivated park runners or weekend cyclists, Hi-PRO has become a simple and healthy choice for nut butter fans trying to make healthier lifestyle choices – we needed to retain the recognition of our more serious sport enthusiast shoppers while gaining sales from the wider generalist shopper. This bold new look has the shelf standout that will help people find it easily and includes easily digestible, punchy product benefits that will help shoppers find the right product and make a quick choice," he added.
The new look packaging coincides with a full digital rebrand, sampling campaign and digital influencer marketing campaign to reach the wider high protein and health shopper.
Hi-PRO Peanut Butter is available in Sainsbury's nationwide, priced £2.95.