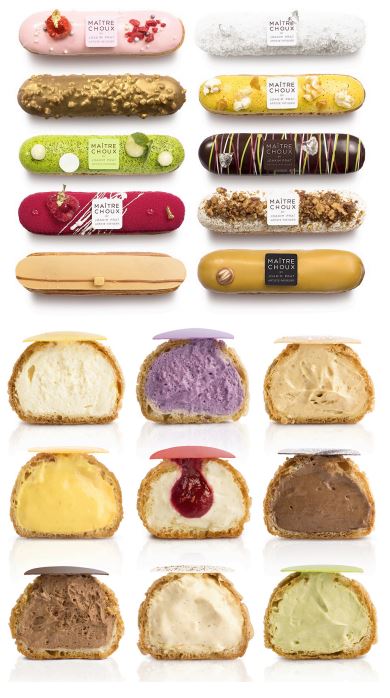 Maître Choux, the world's first choux pastry specialist patisserie, is bringing the taste of authentic French pastries to 59 King's Road in Chelsea this autumn. Located down the road from the Saatchi Gallery, the brand's sixth location will offer the same range of seasonal specials and the well-known and loved uniquely crafted eclairs.
Locals and visitors alike can gather round a fifteen covers seating area and enjoy the traditional French aromas and flavours, including Vert D'Iran and Citron Meringue & Bergamot, raspberry and caramel choux, and dark chocolate chouquettes. They can also enjoy a hot tea, coffee or delicious hot chocolate, as well as a number of other beverages.
Maître Choux King's Road will be taking customised orders along with corporate and private orders. Customers can order eclairs with flavour such as Vanilla & Pecan, Pistachio, Salted Butter & Caramel, Multi-Grain Chocolate, Spanish Raspberry, Hazelnut & Milk Chocolate, Raspberry Macaron, Lemon Meringue and Paris-Brest, as well as a Happy Birthday eclair with your personalised design.
Also available are choux in Vanilla, Chocolate, Caramel, Raspberry, Pistachio & Strawberry and Blackberry Cheesecake and croquettes.
Founded in 2015, Maître Choux is the brainchild of pastry chef Joakim Prat and investor Jeremie Vaislic. Three Michelin star-experienced pastry chef Joakim Prat came to London from Barcelona's Can Fabes to take on the role of Joël Robuchon's Head Pastry Chef at L'Atelier. While dining there, Jeremie and Marina (co-founder) were so impressed by the quality of the desserts that they asked to meet the pastry chef. After lengthy conversations about their shared love of food, pastries and perfection, the focus shifted towards choux pastry, Joakim's specialty.
From this, Maître Choux was born in 2015 with their first shop in South Kensington, re-imagining eclairs and choux into delicious and colourful masterpieces that would take the London food scene by storm. Maître Choux now has six locations across London, with the South Kensington shop opening and products being sold at Fortnum & Mason beginning in 2015, products being featured on Caviar House's dessert menu from 2016, the Soho shop opening in 2017, the Westfield London kiosk opening in summer 2018, and King's Road opening in autumn 2018.