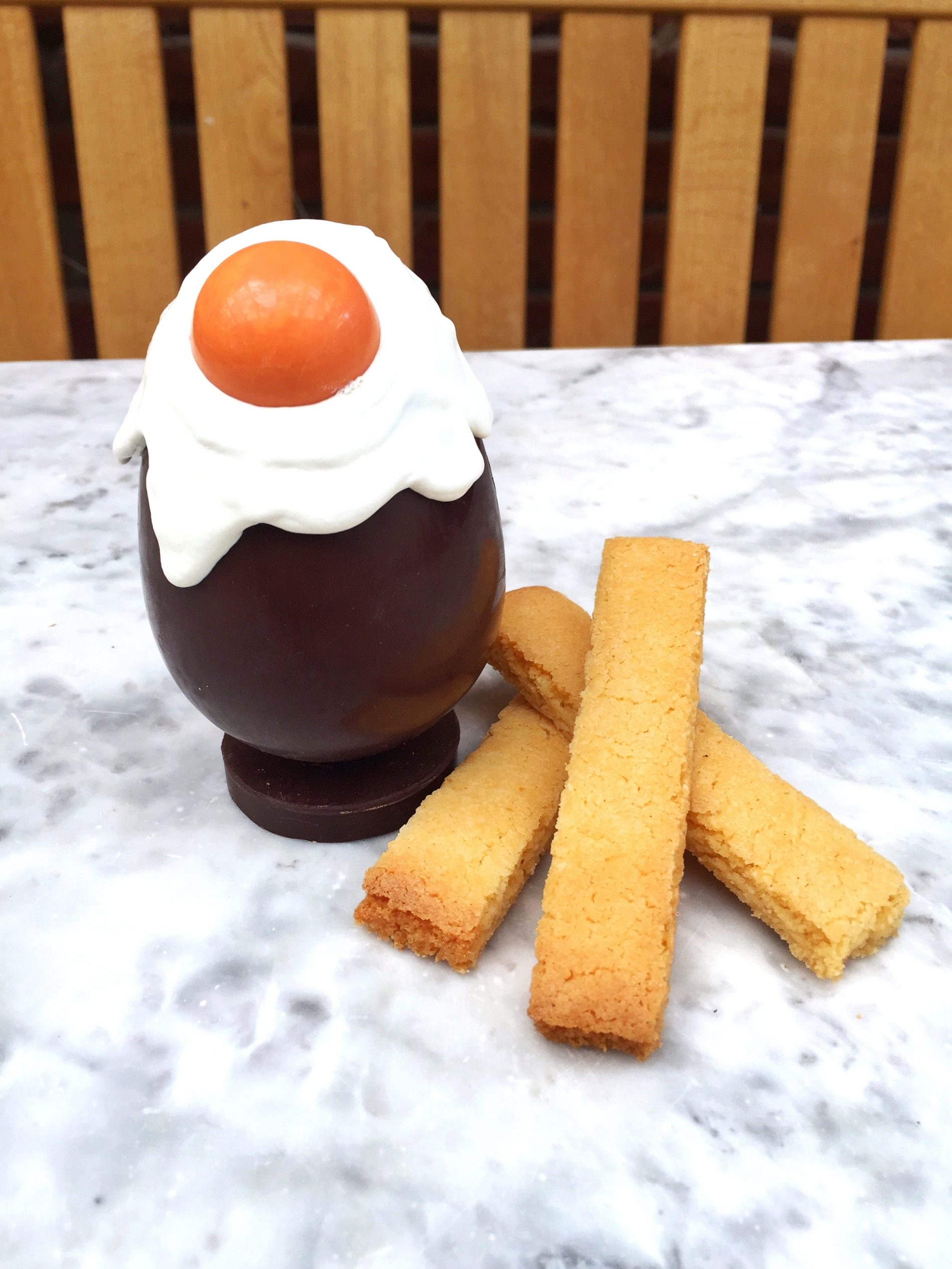 Dominique Ansel Bakery London is delighted to reveal their take on a British classic to celebrate Easter this year: The Easter Egg & Soldiers.
Atop a seemingly classic milk chocolate Easter egg sits a handmade white chocolate "soft-boiled" egg with a vibrant orange yolk accompanied by "toast soldiers" made of golden buttery sablé Breton. This is available from today and priced at £12, as pictured below.
The bakery is also launching "The Sunny Side Up Religieuse" made with the classic two-tier choux dressed as a fried egg and filled with creamy milk chocolate crémeux and passionfruit caramel. This is available from the 19th of April and priced from £6.10.
Additional items to celebrate the occasion include chef Dominique's beloved Peep-A-Boos, Hot Cross Buns and an Easter Hamper that includes a variety of seasonal treats, as detailed below.
Easter Egg & Soldiers
Details: An Easter twist on a childhood breakfast favourite, with a handmade white chocolate "soft-boiled" egg with a vibrant orange yolk set atop a milk chocolate shell, alongside golden buttery sablé breton "soldiers".
Price: £12
Dates available: 5th – 21st April

Peep-A-Boo Easter Eggs
Details: Adorable marshmallow chicks nestled inside real eggshells, which, once cracked, reveal a dark chocolate egg surrounding a fluffy marshmallow chick with a gooey salted caramel core.
Price: £20 for 5 Peep-A-Boos
Dates available: 5th – 21st April
Sunny Side Up Religieuse
Details: A double-decker sunny side up egg-inspired cream puff just in time for Easter, filled with creamy milk chocolate crémeux and passionfruit caramel.
Price: Eat-in £7.20; Takeaway £6.10
Dates available: 19th-21st April
Hot Cross Buns
Details: A traditional Easter classic made with a soft brioche with warm cinnamon spice, orange and bergamot zest, raisins, dried cherries, cranberries and candied orange peel, finished with a cinnamon star anise glaze.
Price: £12.50 for a box of five and £2.50 each
Dates available: 5th-21st April
Easter Hamper
Details: A selection of Easter treats, including Peep-A-Boos, Easter Egg & Soldiers, Hot Cross Buns, Lemon & Lychee Mini Me's (miniature meringues), and Pistachio & Crushed Raspberry Brittle.
Price: £35
Dates available: 5th-21st April