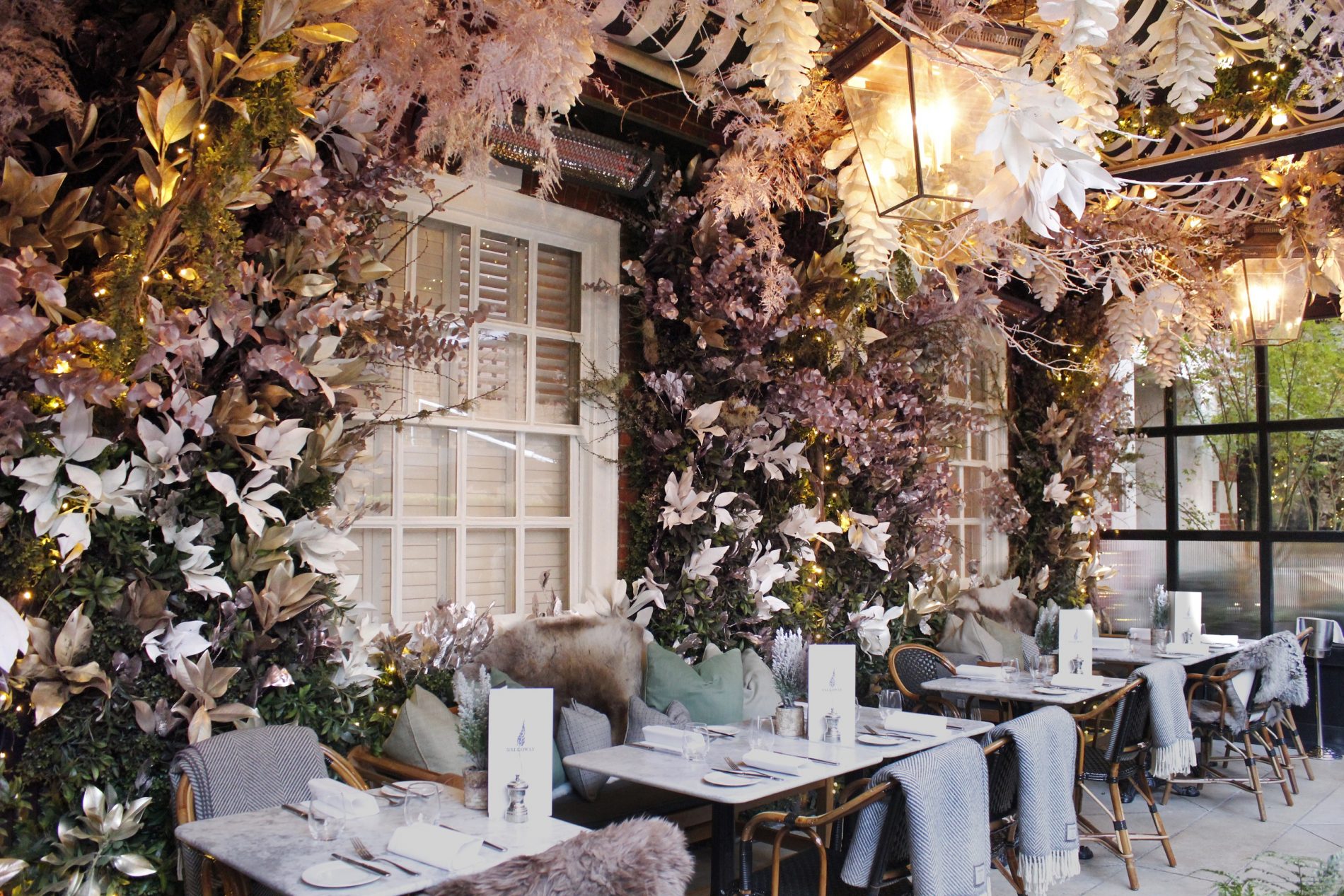 The most wonderful time of the year is upon us; when the highly anticipated 'Winter At Dalloway' returns. The sought after spot of the season, described as 'One of London's most Instagrammable restaurants' by the Evening Standard, has transformed into an icy haven of crystallised white, pink and silver petals. Bloomsbury's enchanting hideaway, Dalloway Terrace, completes its frosty festive transformation with Truffle Cheese Fondue, Warming Cocktails and a new seasonal menu of decadent winter delights.
Nikki Tibbles Wild at Heart has once again transformed Dalloway Terrace into a winter wonderland in time for the festive period. The new installation features an abundance of champagne coloured frosted foliage, such as leather leaf, gogo, eucalyptus and magnolia. Natural lichen also adorns the ceiling and walls, with additional metallic silver and pink leaf and icy white magnolia included to keep the frozen space cosy, creating an enchantingly chilled hideaway in the middle of the city.
Guests are able to fully embrace the festive season with Dalloway Terrace's a choice of either Swiss Cheese Fondue (£20) or Truffle Cheese Fondue (£25) to share, alongside a cocktail list of Winter Warmers in collaboration with Belsazar Vermouth. Creations include Hug In A Mug (Belsazar White, Cachaça Yaguara, Chamomile Tea, Honey – £14), Going Home Home (Belsazar Dry, Ron De Jeremy, Campari, Fever-Tree Tonic Water, Caramel – £15) and Mulling It Over (Belsazar, Riesling, House Gin, Milk, Sugar – £12).
New additions to the seasonal all-day dining menu include a comforting Pigeon Pie with Creamed Potatoes and Savoy Cabbage (£25) alongside treats such as Spiced Pumpkin Pie with Candied Pumpkin and Cinnamon Chantilly (£7) and Original Beans Dark Chocolate Fondant with Roasted Hazelnut Ice Cream (£7.50) for guests with a sweeter tooth.
For weekend brunch, Dalloway Terrace will be offering guests warming delights such as Truffle Croque Madame with Watercress (£18) and hearty Green Shakshuka with Clarence Court Eggs, Spinach and Kale (£14), while Afternoon Tea has also had a transformation for winter. Sweet options include seasonal treats such as Cranberry Cream with Spiced Sablé Breton, Original Beans 70% Chocolate Mousse with Clementine Gel and Candied Chestnuts and Spice Financier with Cinnamon Glaze.
'Winter at Dalloway' is complete with festive touches such as cosy hot water bottles, Foxford woollen blankets and a chiminea on the patio. The all-weather terrace is fully covered and heated, allowing guests to enjoy the festive season in London's most cosy winter wonderland.